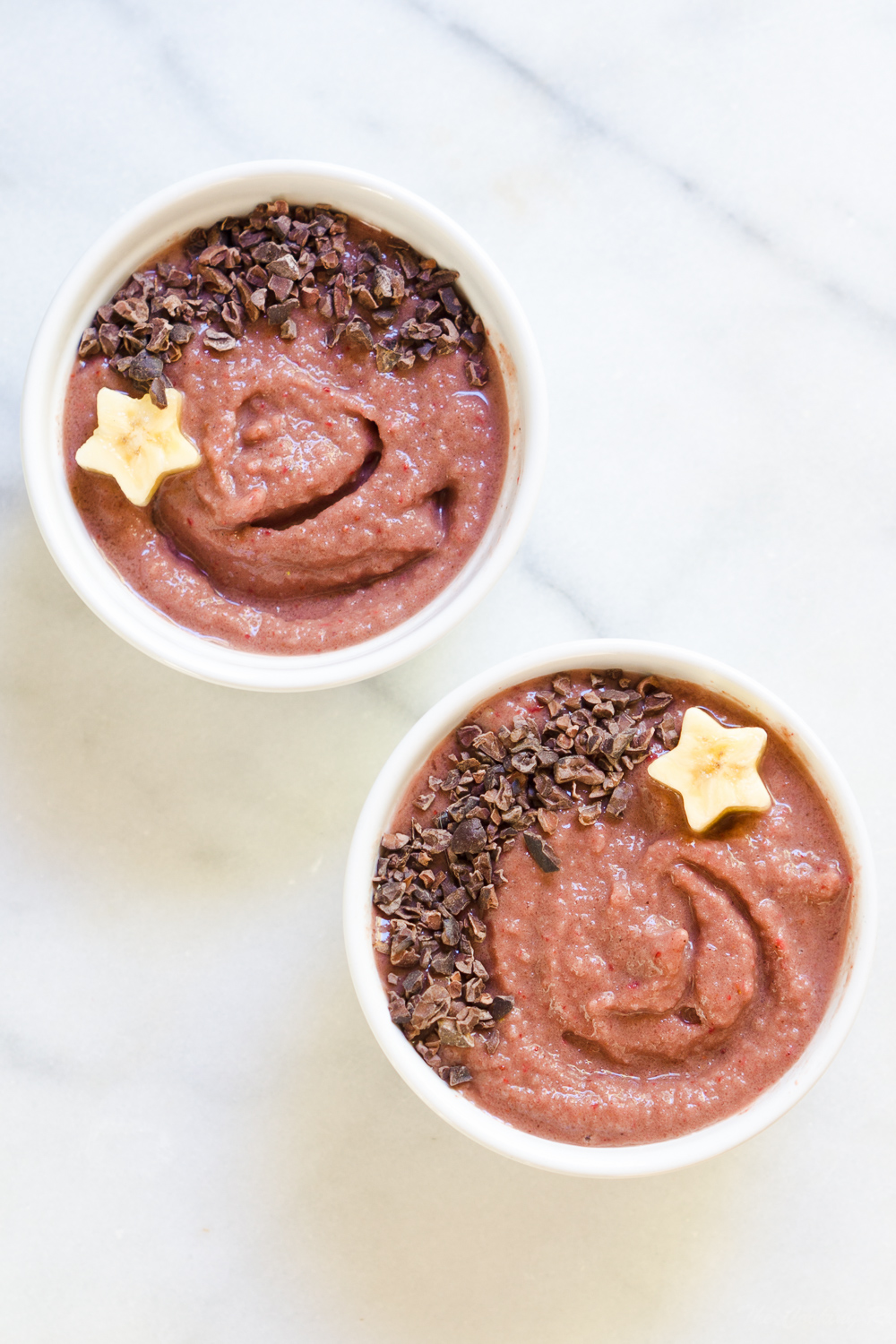 Lately my toddler and I have been spending a lot of time in the kitchen. She loves having "cooking lessons" from me, and we enjoy decorating the food we make for dad. I recently bought some stainless steel food "cookie cutters" so we can make different shapes out of vegetables, fruits and breads. These shooting star acai bowls are a great, healthy way to start your day. I decided to make them mini to lower the sugar content. To get a thick consistency, almost all of the ingredients need to be frozen. You can likely find acai purée packets near the frozen fruit in the freezer section of your grocery store.
Acai berries are known to be rich in antioxidants, even more so than other berries like blueberries, raspberries, and cranberries. They are native to Central and South America, so unfortunately it is hard to find them fresh where I live. They taste great in smoothies and bowls. In this acai bowl recipe, I mixed a purée packet with frozen bananas and strawberries, and then topped the mini bowls with cacao nibs and fresh banana slices. Cacao nibs are made from crushed cacao beans, and are known to be packed with antioxidants and fiber.
What are your favorite acai bowl toppings?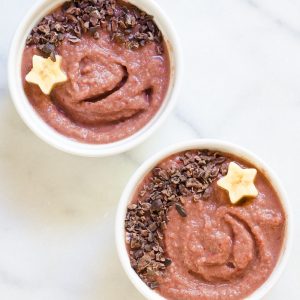 Mini Acai Bowls
Ingredients
1

frozen acai purée packet

1

frozen banana

1/2

cup

frozen strawberries

1/2

cup

water or milk

1/4

cup

plain Greek yogurt (optional)

2

tbsp

cacao nibs

1

banana, for topping
Instructions
Add all ingredients to a blender except the cacao nibs and extra banana for topping and pulse a few times until thick and blended.

Pour into two small bowls and top with cacao nibs, banana or other toppings of choice!
References
Acai Berries and Berry Juice: Health Benefits – https://www.webmd.com/diet/acai-berries-and-acai-berry-juice-what-are-the-health-benefits
Disclaimer: Some of the links above may be affiliate links, and I will receive commission if you choose to purchase these products.
Please follow and like us: