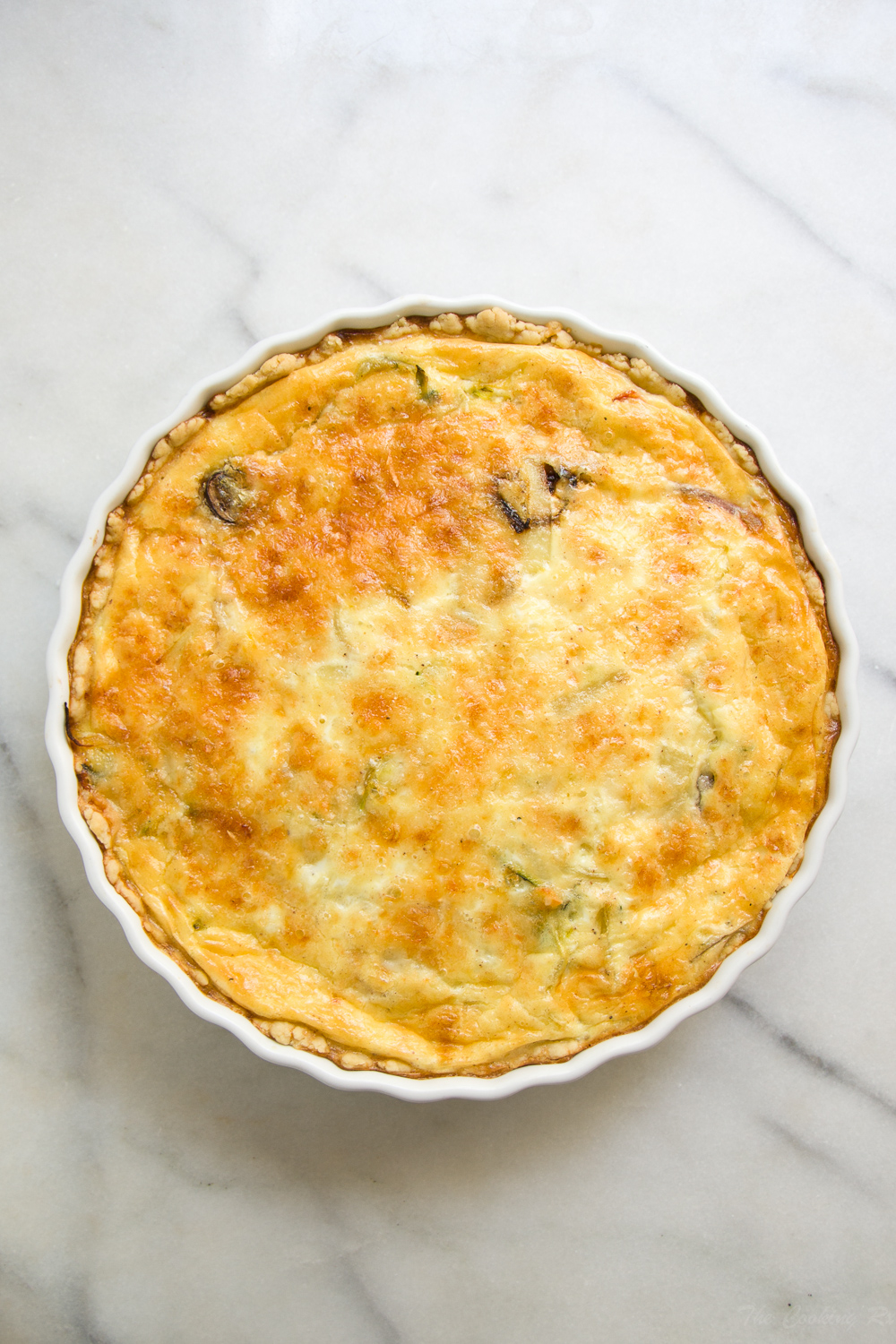 Quiche took me a while to perfect. I learned the hard way that the ideal ratio of eggs to milk is 2:1 (2 eggs for every cup of milk). I have made many runny and dry quiches alike, but after so many different tries I finally have a go-to quiche recipe that never fails me! You can use any vegetables you like instead of the mushrooms and leek, but I love the combination of these veggies with the gruyere cheese. A hint of nutmeg makes all the difference.
I use an olive oil based crust, and by pre-baking it before adding the filling, it makes it nice and flaky. I also learned that one the hard way, since once I did not pre-bake the crust and it turned out really soggy!
The dough and filling can all be cooked in a Thermomix® bowl, but if you do not own one, you can make the dough in a stand mixer (or even by hand with muscle power). The vegetables can be cooked in a skillet or sautéed in the Thermomix® bowl, and the egg mixture can be mixed with a whisk or mixed in the Thermomix®. I use my Thermomix® for every step of this recipe, it is so easy! I first prepare the crust, then sauté the vegetables, then add the egg and milk and cheese to mix up the filling before pouring it into the shells. It is one of the easiest recipes you can make in the Thermomix®!
Serve this quiche for breakfast, brunch, lunch or dinner. I like to serve it alongside a healthy green salad.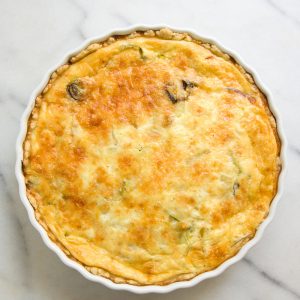 Mushroom and Leek Quiche
Ingredients
Crust
1/4

cup

olive oil

1/4

cup

cold water

1/2

tsp

salt

1

cup

all-purpose flour
Filling
4

eggs

2

cups

half-and-half or whole milk

1/4

tsp

salt

1/4

tsp

ground black pepper

1/4

tsp

nutmeg

1

cup

shredded gruyere cheese

1

leek, thinly sliced

1

tbsp

olive oil

1

8oz package crimini mushrooms
Instructions
Preheat oven to 425 degrees F.

Add the crust ingredients to a Thermomix® mixing bowl or stand mixer and knead/mix for 3 minutes.

Press the dough into a quiche dish, poke holes in the dough with a fork, and bake in the oven for 15 minutes.

In the meantime, heat the olive oil in a skillet over medium heat and cook the leek and mushrooms, mixing occasionally, for 7 minutes.

Add the eggs, half-and-half/milk, salt, pepper and nutmeg to a mixing bowl and whisk together until blended.

Add half of the cheese and mix well.

Place the vegetables on the quiche crust, then pour the egg mixture on top.

Sprinkle remaining cheese on top.

Bake at 425 F for 15 minutes, then lower the heat to 325 degrees F and bake for 30 minutes or until top is golden brown.
Would you like to learn more about the Thermomix® TM6? Book a virtual cooking experience demo with me!
Disclaimer: "THERMOMIX," "VORWERK," "COOKKEY," and "COOKIDOO" are a registered trademark of VORWERK (or its affiliates). VORWERK does not support, authorize or endorse this site.
Please follow and like us: