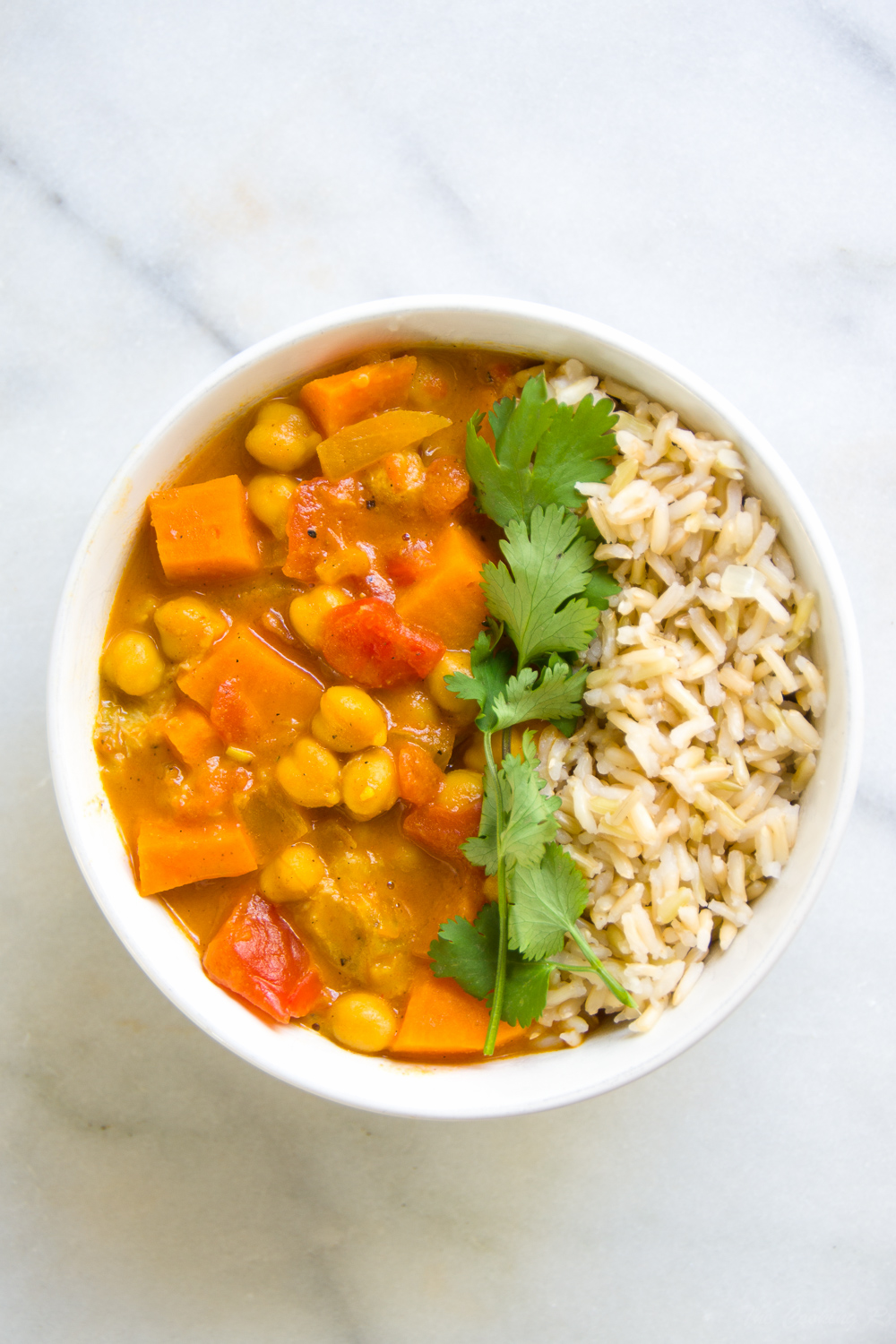 Vegan Sweet Potato Chickpea "Butter Chicken"
I am so excited to share this vegan butter chicken recipe with you today. The name is a little misleading, because there is actually no chicken in this recipe – it is a vegan version of Indian butter chicken. I just couldn't find a better way to describe it, because it isn't really a curry, but more like a butter chicken sauce. Butter chicken is made with a delicious spiced tomato sauce. Instead of meat, the main ingredients are sweet potatoes and chickpeas, which make this dish very filling. Chickpeas are a good source of plant-based protein, and both chickpeas and fiber contain a lot of fiber.
Hang in there, there are A LOT of spices in this recipe! I always have my pantry stocked with all different kinds of spices. If you like Indian cooking, it is a must!
My recommendation for a healthy side is either quinoa or brown rice. Garnish with fresh chopped cilantro for extra flavor.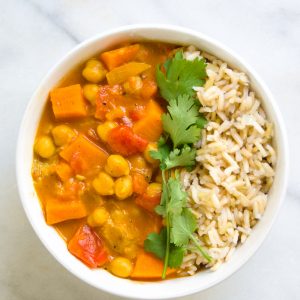 Vegan Chickpea Sweet Potato Butter Chicken
Ingredients
1

tbsp

olive oil

1

yellow onion, chopped

2

sweet potatoes, peeled and chopped

2

garlic cloves, minced

1

tsp

paprika

1

tsp

ground ginger

1

tsp

ground coriander

1

tsp

garam masala

1

can

diced tomatoes (15 oz)

1

tsp

salt

2

tsp

turmeric

1

tsp

curry powder

1/2

tsp

cumin

1/4

tsp

ground black pepper

1

can

chickpeas, drained (15 oz)

2

cups

water

1/2

cup

coconut milk

Cilantro, for garnish
Instructions
Heat the olive oil in a large pot over medium heat.

Add the onion and garlic and cook for 5 minutes, stirring occasionally.

Add all of the spices and stir well. Cook for 2 minutes.

Add the sweet potato, chickpeas, tomatoes, and water and bring to a boil.

Turn the heat to low and simmer for 20 minutes.

Stir in the coconut milk and serve.
Please follow and like us: