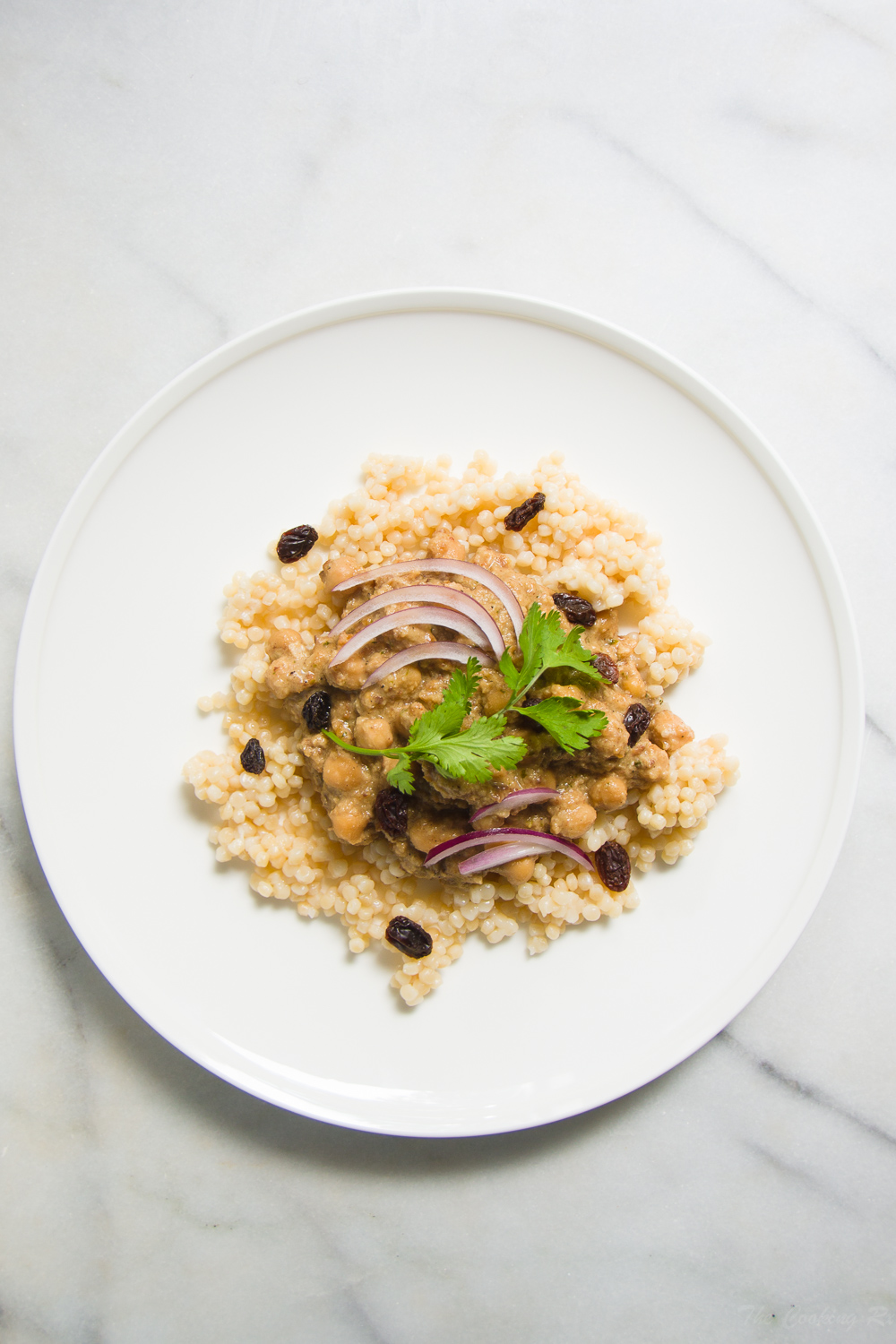 Moroccan dishes are known for their intricate combination of spices and sweet and savory flavors! Couscous is also a well known Moroccan staple, and it goes so well with many vegetarian or meat-based dishes. I found this Moroccan bowl recipe on the Cookidoo® app and modified it into a vegetarian version using chickpeas instead of chicken. I wasn't sure how it would turn out without the chicken, but in the end it was so amazing I just had to share the recipe.
There are so many flavors going on in this bowl, your tastebuds will love it. The red onion gives the yogurt-based sauce a little kick, while the apricots sweeten it up. I made this in my Thermomix®, but you can also blend the sauce ingredients in a food processor or blender, and then transfer to a pot to finish cooking through with the chickpeas.
I serve the chickpeas over pearl couscous, since it is a little larger in size. Garnish with sliced almonds, cilantro, apricots, raisins and thin sliced red onions.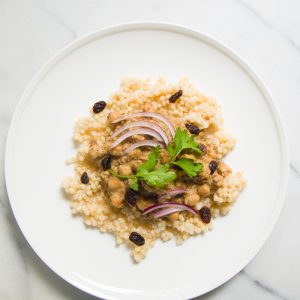 Moroccan Chickpea Bowl
Ingredients
Couscous
1

cup

couscous

1 1/2

cups

water

1

tbsp

olive oil
Moroccan Chickpeas
1

can

garbanzo beans

2

oz

dried apricots

1/2

red onion, chopped

1

tbsp

olive oil

1

cup

plain yogurt

1

tbsp

garam masala

4

garlic cloves

1/2

tsp

ground ginger

1/4

tsp

salt

1/4

tsp

pepper

2

tbsp

chopped cilantro, plus more for garnish

2

tbsp

raisins, plus more for garnish

Sliced almonds for garnish
Instructions
Bring the water and olive oil to boil and add the couscous.

Turn the heat to low and simmer for 10 minutes.

Add the onions, apricots, garlic, cilantro, and oil to the Thermomix bowl or food processor and blend until combined. Transfer to a pot and saute for 3 minutes over medium heat (or cook in the Thermomix for 3 minutes 212F speed 1).

Add the yogurt, garam masala, ginger, salt, pepper and chickpeas to the mixing bowl or to a pot with the blended apricot mixture from previous step and heat over medium heat until it just starts to boil (in the Thermomix cook for 10 minutes at 212F speed 1). Lower the heat and simmer for 10 minutes.

Pour over couscous and garnish with red onion, sliced almonds, raisins, apricots or cilantro.
Recipe adapted from Moroccan Chicken Bowl on Cookidoo®.
Please follow and like us: