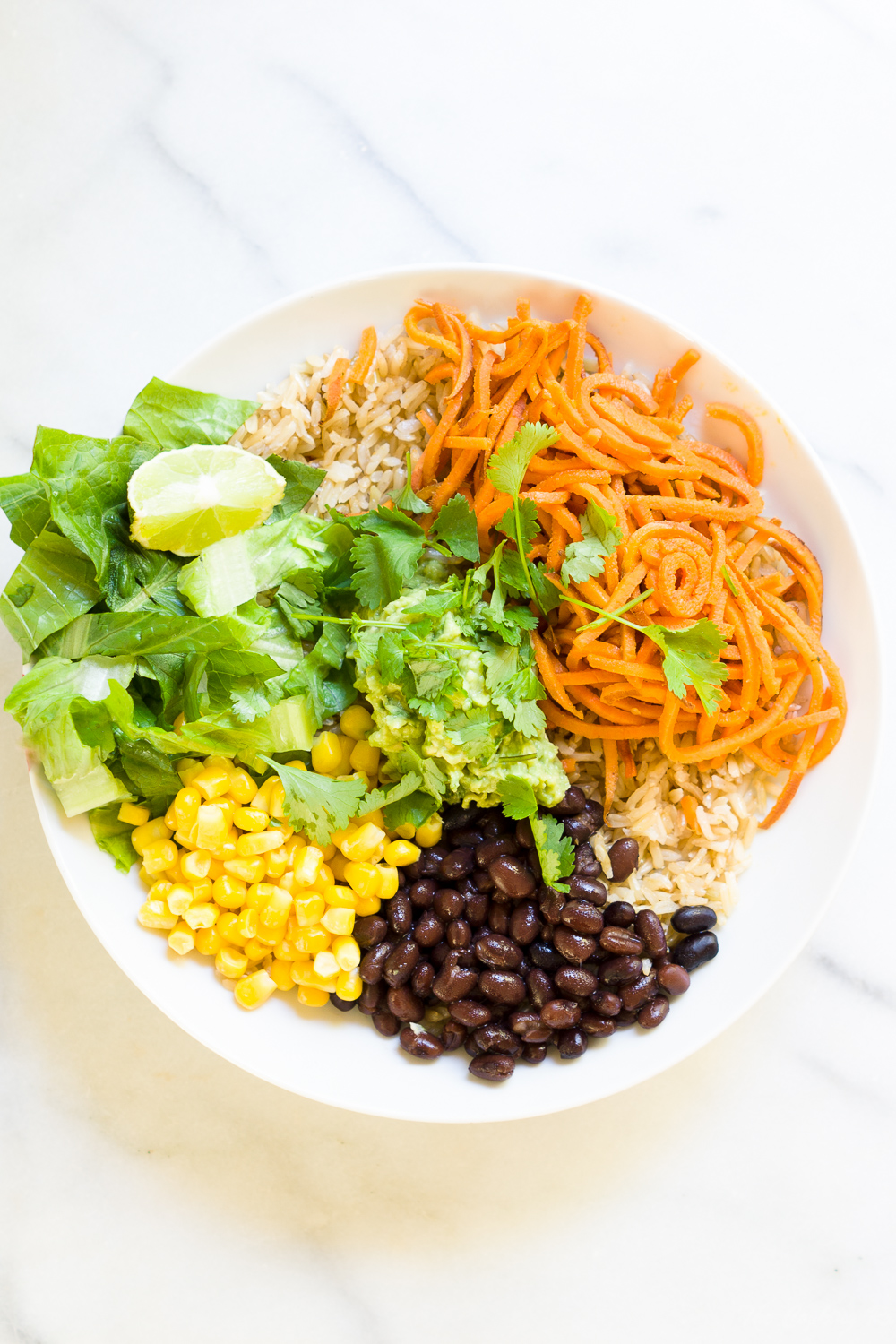 Sweet Potato Burrito Bowl
Craving Mexican food, but without the heavy feeling you sometimes get after? These sweet potato burrito bowls are made without tortillas and cheese. You can have fun with a spiralizer and make sweet potato noodles (my daughter loves them!), and add them on top of brown rice along with black beans, corn, lettuce and guacamole. You can also add other toppings like salsa, sour cream, or fresh cilantro. I like to squeeze fresh lime juice over the whole bowl for a fresh citrus flavor.
Let's talk about rice for a second. Do you know the difference between brown rice and white rice? White rice is very processed compared to brown rice. It has had the bran and germ removed, which is the most nutritious part – it has vitamins, antioxidants, etc. With that being said, white rice is normally enriched to add the vitamins back. Anyways, I like to stay with least processed, whole foods as much as I can. So my vote is for brown rice!
Back to these sweet potato burrito bowls. It helps to pre-cook everything in advance and store the ingredients in the fridge, so all you have to do is spend 10 minutes or less throwing the bowls together. I have the brown rice, corn and sweet potatoes cooked and ready to go in the beginning of the week that I will make these bowls, and pick a meal on a day I don't have much time to put it all together.
It snowed last night! After a pretty dry winter, we woke up to everything blanketed in white. It looked so beautiful. I love the warmth of summer, but you can't beat the clean beauty of winter.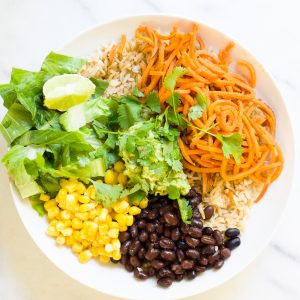 Sweet Potato Burrito Bowl
Ingredients
4

cups

cooked brown rice

2

cups

cooked sweet potato noodles (or diced, cooked sweet potato)

2

cups

black beans

2

cups

cooked sweet corn

2

cups

chopped romaine lettuce

1

cup

guacamole

1

lime

Fresh chopped cilantro, for topping
Instructions
Add the brown rice to a bowl, then top with the remaining ingredients.

Squeeze fresh lime juice on top and sprinkle cilantro over the bowls.
Disclaimer: Some links above may be affiliate links, and I will get commission if you choose to purchase these items.
Please follow and like us: