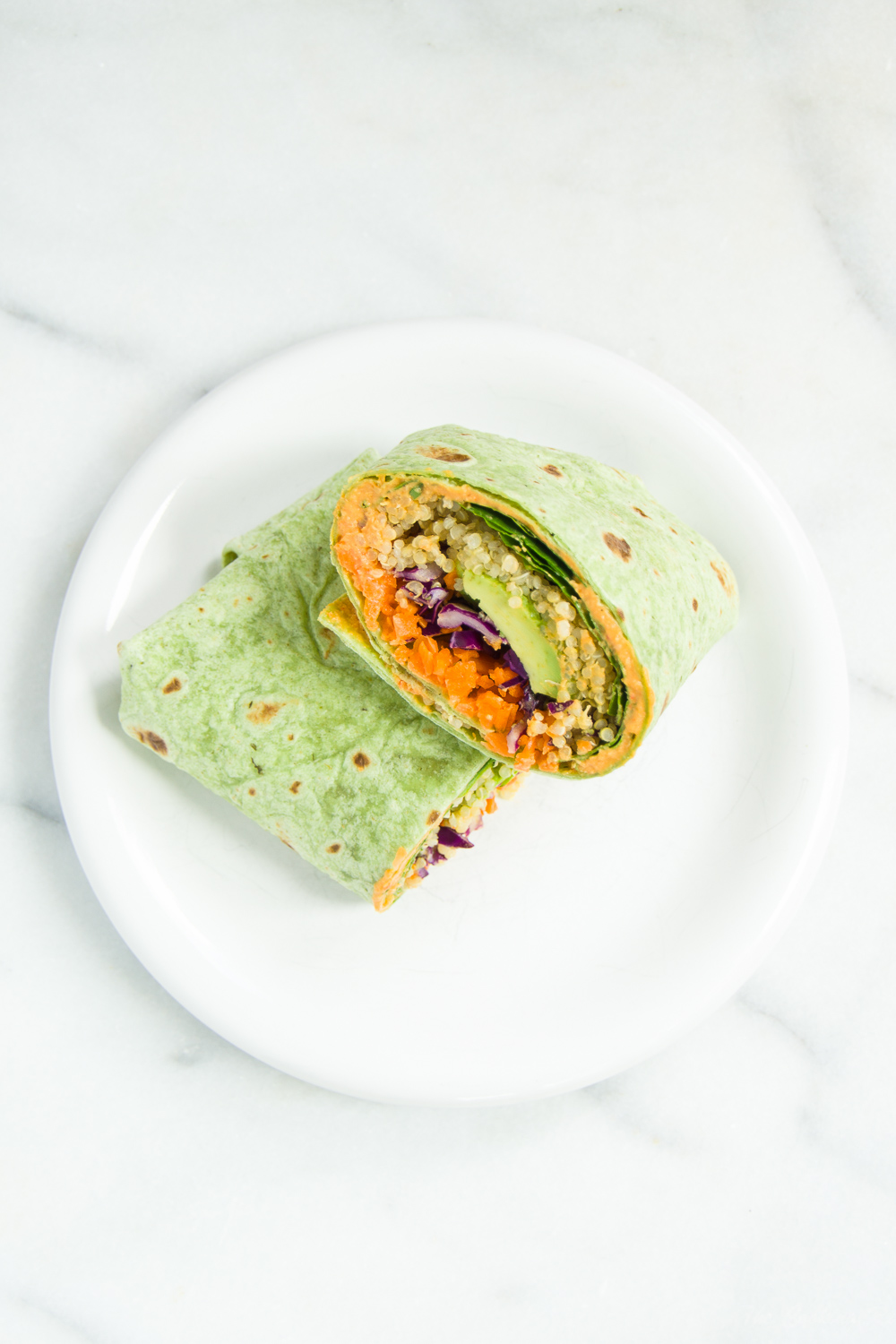 I am so excited to share this rainbow wrap recipe with you today, because it is one of my favorite lunch recipes and it is really fast and easy to make! Bonus points for being vegan and portable. Wraps are easy to pack as a lunch or take on-the-go. Inside of this healthy vegan rainbow wrap is roasted red pepper hummus, quinoa, shredded carrots, shredded cabbage, avocado, and spinach. I am sure there are many other ingredients you could add to it.
Here is a super helpful tip: prep all of the ingredients you can beforehand, so when you are making your wrap it is grab-and-go. For example, I cook the quinoa in my Thermomix® and I do all of my grating in it as well. Then, I store the quinoa and shredded vegetables in my refrigerator in glass containers. You could even make your own wraps and hummus ahead of time, too, instead of buying them at the store (yes, I do this in my Thermomix® too!).
I could eat this wrap 2 or 3 times a week for lunch and not get bored of it!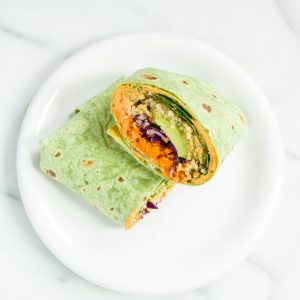 Vegan Rainbow Wrap
Ingredients
1/2

cup

roasted red pepper hummus

1

cup

baby spinach leaves

1

cup

shredded carrots

1/2

cup

shredded red cabbage

1

cup

cooked quinoa

1

avocado, pitted, peeled and sliced

2

spinach tortilla wraps
Instructions
Spread 1/4 cup of hummus onto one side of each wrap.

Layer the toppings one by one over the hummus, then fold into a wrap.
Disclaimer: I am a Thermomix® consultant and sell them as an independent business. "THERMOMIX," "VORWERK," "COOKKEY," and "COOKIDOO" are a registered trademark of VORWERK (or its affiliates). VORWERK does not support, authorize or endorse this site.
Please follow and like us: