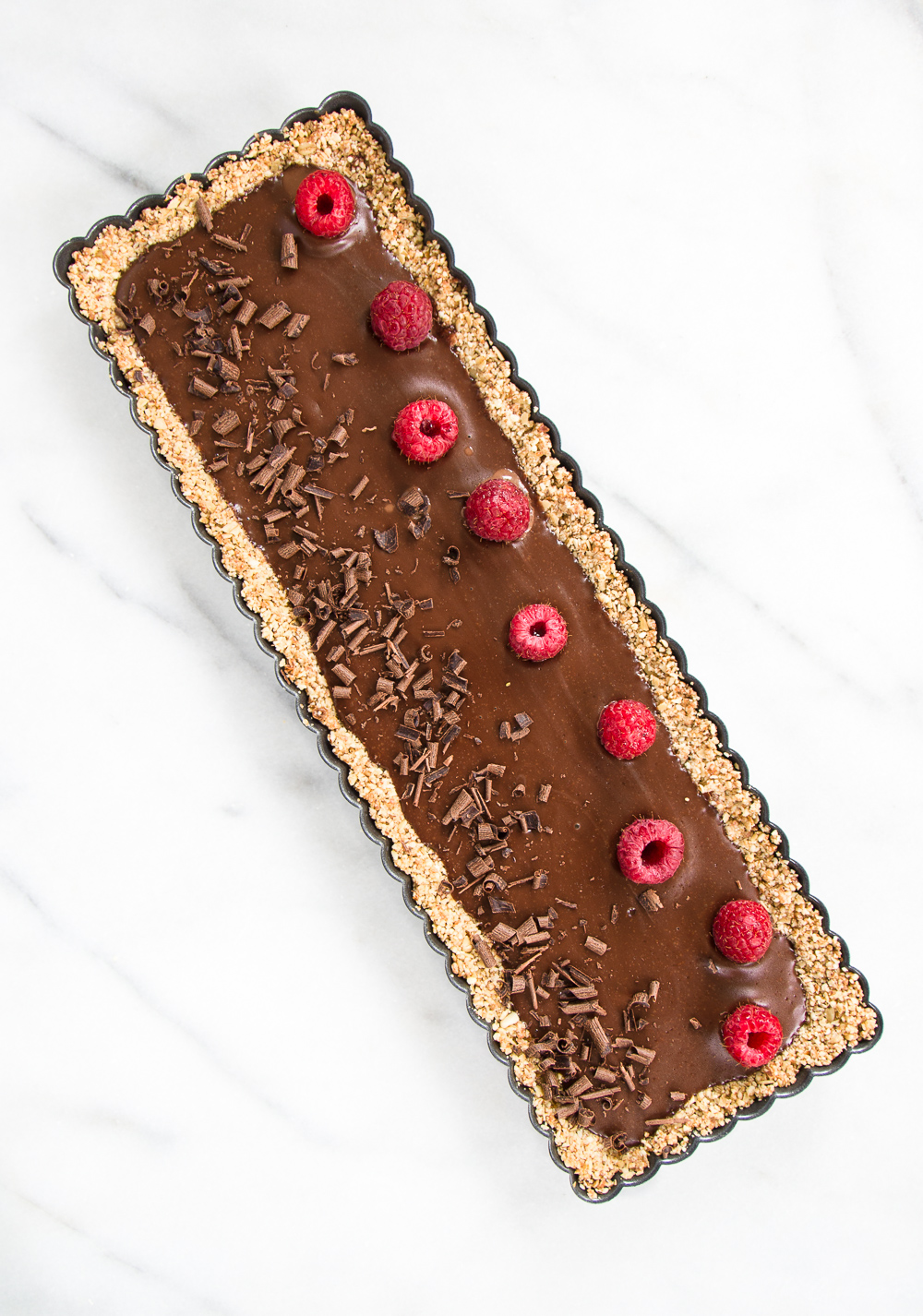 Vegan Chocolate Coconut Cream Tart
I feel really good about this tart because it is MOSTLY healthy! The gluten-free crust is made of almonds, oats, dates, maple syrup, almond butter and coconut oil. The ingredients are so simple and heathy for you! The filling is made with chocolate chips melted with coconut cream. I have been having fun with my new tart pan making different fillings, and this is one of my favorites so far.
The melting point of chocolate is 90 degrees F, and you do not want to go much higher or you can burn it and it will taste awful. Also, do not let any water get into your mixing bowl because it will ruin the chocolate. Instead of heavy whipping cream, I use coconut cream in the same ratio to the chocolate chips in this vegan chocolate ganache recipe.
I made both my crust and filling in my Thermomix®. It is so easy to make your own flours and crusts at home, I even started my almond flour with a fresh cup of raw almonds and blended them in my Thermomix® for 3 seconds on speed 10 into beautiful almond flour. I love how quick the ganache is ready and PERFECT every time, as well. It takes 2 minutes in the Thermomix® to make chocolate ganache.
Allow the tart to cool, ideally in the refrigerator, for 1 hour (best overnight) before topping and serving. The ganache will be firm, but soft to eat – like a firm pudding!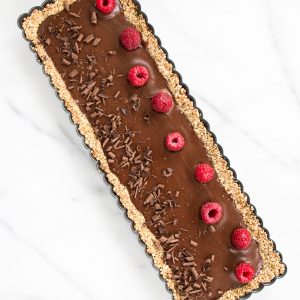 Chocolate Coconut Cream Tart
Ingredients
Crust
1

cup

almond flour

1

cup

oats

4

dates

1/4

cup

almond butter

2

tbsp

maple syrup

2

tbsp

coconut oil
Filling
1

cup

semi-sweet chocolate chips

1

cup

coconut cream (thick part from top of can)
Instructions
Add all crust ingredients to a Thermomix® bowl (or stand mixer) and mix on speed 4 for 1 minute.

Press into a greased tart form and bake in the oven at 350 degrees F for 15 minutes.

Remove from the oven and let cool.

Add the chocolate to a Thermomix® bowl (or double boiler) and blend on speed 10 for 8 seconds to chop more fine.

Add the coconut cream and melt at 120 F for 2 minutes while mixing on speed 3.

Pour chocolate ganache into the tart crust and cool in the refrigerator at least 1 hour before topping and serving.
Disclaimer: I am a Thermomix® consultant and sell them as an independent business. "THERMOMIX," "VORWERK," "COOKKEY," and "COOKIDOO" are a registered trademark of VORWERK (or its affiliates). VORWERK does not support, authorize or endorse this site.
Please follow and like us: