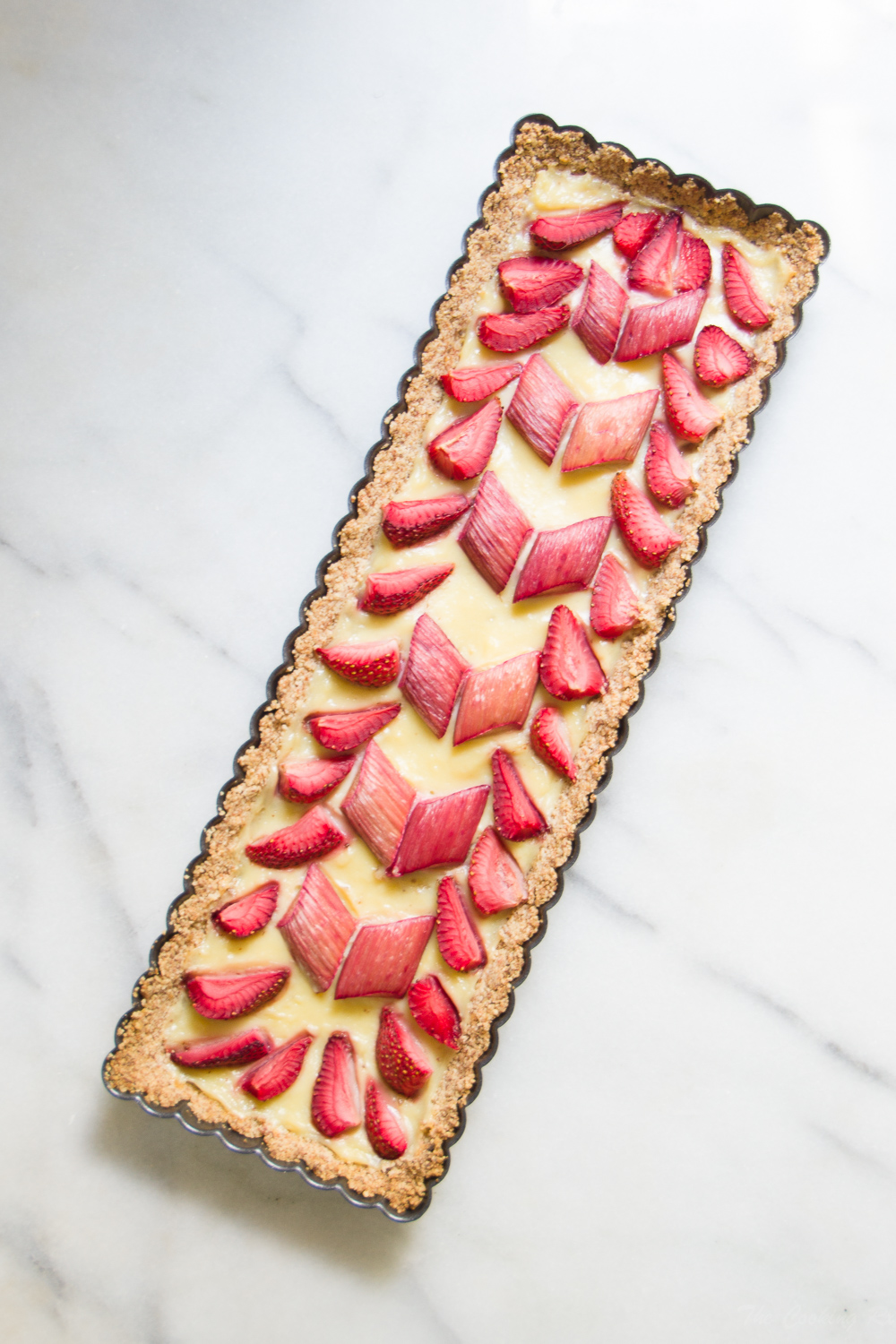 The combination of fresh strawberries and rhubarb has always been a favorite of mine. I recently bought this tart pan and this strawberry rhubarb tart was the very first tart I baked in it. It has a removable bottom piece, so it came out very easily and in-tact! For this tart recipe, I created a gluten free, dairy free, vegan crust. I mostly wanted to make a crust without butter, and try to make it healthier. That led me to using almonds and oats for the "flours" and dates and coconut oil to hold the dough together.
For the filling, I used a basic crème pâtissière, but if you want to keep it vegan you can use any filling you want. A simple jam is perfect. I would say the next time I make this tart I would use more strawberries and more rhubarb – fill it all the way in! The fruit topping is so delicious.
I made the crust and filling in my Thermomix® (yay less dishes!). I did not have almond flour on hand, but it is super easy to make from raw almonds in the Thermomix®. Just add a cup of almonds into the mixing bowl and blend at speed 10 for a few seconds and you have almond flour!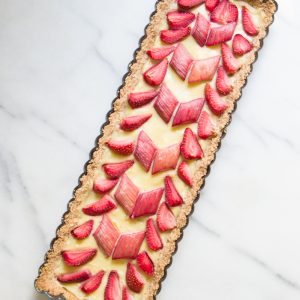 Strawberry Rhubarb Tart
Ingredients
1

stalk rhubarb, chopped into 1-inch pieces

1

cup

chopped strawberries

1

cup

almonds

1

cup

rolled oats

2

tbsp

coconut oil

4

pitted dates

1

egg

1

cup

milk

1/4

cup

all-purpose flour

1/4

cup

granulated sugar

1/2

tsp

vanilla extract
Instructions
Add the almonds to a Thermomix® mixing bowl or food processor and blend into almond flour.

Add the oats, dates, and coconut oil and blend into a moist dough.

Press the dough into a greased tart pan.

Place the tart pan in the fridge to chill.

Add the milk, egg, sugar, vanilla and flour to a Thermomix® mixing bowl or pot over medium heat and cook at 90 degrees C on speed 4 for 8 minutes (or stir constantly while cooking in the pot until thick).

Spread the creme patissiere over the tart crust and top with the fruit.

Bake at 350 degrees F for 20 minutes.
Disclaimer: This page may contain affiliate links. I will get commission if you choose to purchase these linked products.
Please follow and like us: