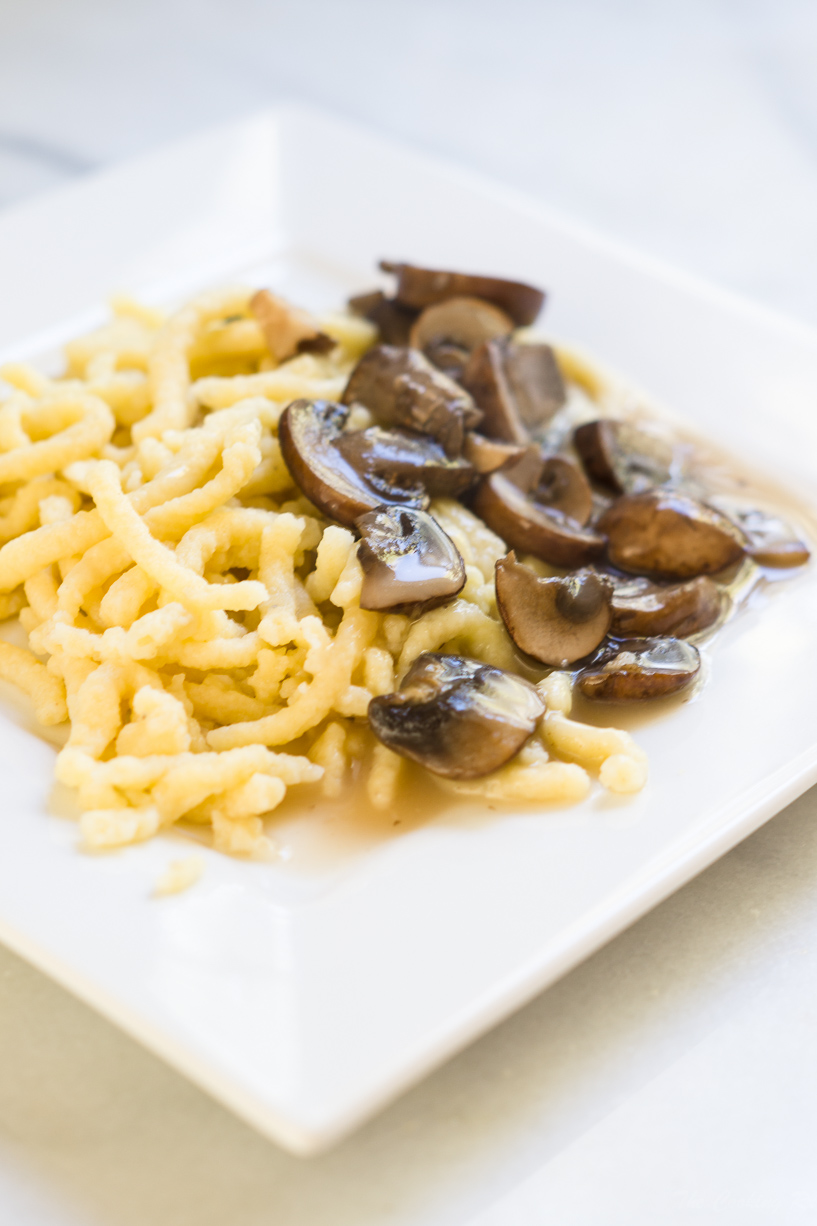 Egg Noodles with Mushroom Sauce
This popular German dish, "spätzle with champignon rahmsauce," or egg noodles with mushrooms, is one of my favorites! You can get it at many German restaurants. It is very easy main dish to make at home if you have a spätzlemaker. A good one can be a little pricey, but it is worth investing in one, because spätzle, or egg noodles, are a great side to many different main courses. To make the spätzle, or egg noodles, you only need a few ingredients: flour, eggs, salt and water. I love how fresh the noodles taste when you serve them hot from the pot. They also keep fine for use during the next day, just cook them in a pan with a little olive oil to get them hot again.
Mushrooms are 90% water, but are packed with B vitamins, protein, fiber and other nutrients to keep you healthy. I like to use them as a substitute for meat, since they have a nice texture and flavor to swap them in. This mushroom sauce has half-half instead of heavy cream to cut down the fat and calories, but you can omit it completely to make a lighter vegetarian version.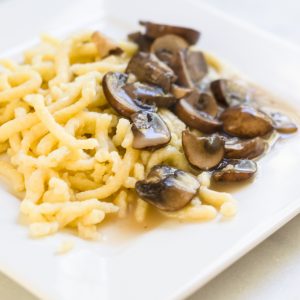 Egg Noodles with Mushroom Sauce
Ingredients
Mushroom Sauce
8

oz

sliced cremini mushrooms

1

tbsp

olive oil

1

tbsp

butter

1

tbsp

flour

1

clove

garlic, minced

1/2

cup

dry white cooking wine

1

cup

half-half

1

tsp

thyme

1/2

cup

vegetable broth

1/4

tsp

salt

1/4

tsp

pepper
Egg Noodles
2 1/4

cups

all-purpose flour

4

eggs

3

tbsp

water (more if needed)

1/2

tsp

salt
Instructions
Mushroom Sauce
Add the olive oil to a skillet on medium heat and once hot add the mushrooms.

Cook the mushrooms and garlic for about 5 minutes, stirring occasionally, until browned.

Move the mushrooms aside and add the butter and flour and stir on the side until melted and mixed.

Add the cooking wine and simmer until most boiled off, about 7 minutes.

Add the vegetable broth, half-half, thyme, salt and pepper and bring to a boil.

Once boiling, turn the heat to low and simmer and stir until thick.
Egg Noodles
Add the flour and salt to a bowl and mix with a whisk.

Add the eggs and stir, then add the water and stir until you can lift the whisk and the dough looks elastic. You may need to add more water, it should not be too dry! More water is better than less so the dough is slightly wet and easy to stir.

Let the dough sit for 15 minutes. In the meantime, bring a large pot of salt water to boil.

Fill the spatzlemaker up to the top and press down so the dough falls into the boiling water. Once they rise to the top, use a strainer to scoop them out. Pour some cold water on top then transfer them to a bowl.
References
All About Mushrooms – https://www.webmd.com/food-recipes/ss/slideshow-all-about-mushrooms
Disclaimer: There may be affiliate links in this post where I make some commission from you purchase
Please follow and like us: