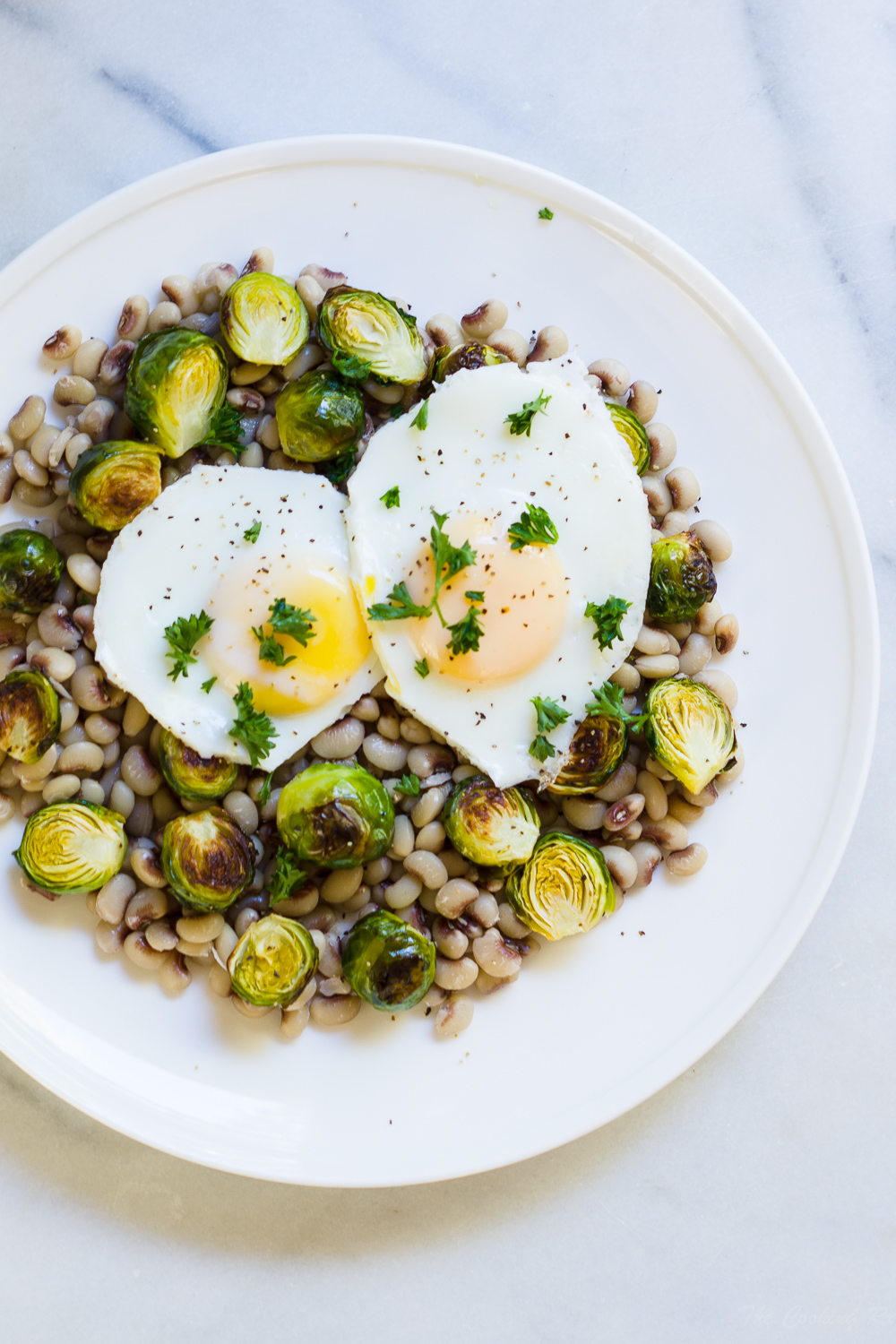 Black Eyed Peas with Brussels Sprouts and Egg
Black eyed peas are a popular food in the Southern United States, and they are even thought to bring prosperity in the New Year! As a legume, they offer a good amount of fiber and iron to your diet. Foods with fiber keep you feeling full longer, which can help with weight loss. They are delicious in soups and salads. In this recipe, I mix black eyed peas with roasted brussels sprouts and egg for a healthy lunch or dinner. It tastes even better with chopped bacon, but I omitted this because we have stopped eating so much meat.
This recipe requires a little multi-tasking. While you cook the brussels sprouts in the oven, you can simmer the black eyed peas and cook the egg at the same time. It will all come together at almost the same time! Sprinkle with fresh parsley on top when you are ready to serve.
This winter has been so different compared to last year. We had so much snow last winter, and this winter we got barely any in weeks. At least we don't have to deal with snow removal now that we have our three month old to take care of 🙂 Still, it is cold enough outside to enjoy warm dishes like this one for lunch or dinner. Mmmmm comfort food!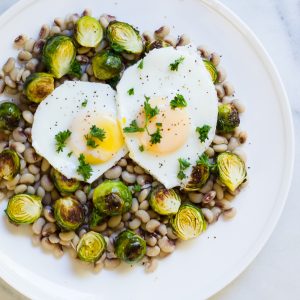 Black Eyed Peas with Brussels Sprouts and Egg
Ingredients
2

cups

frozen black eyed peas

1/2

cup

vegetable broth

2

eggs

2

cups

brussels sprouts, halved

2

tbsp

olive oil

1

tbsp

chopped fresh parsley

Salt and pepper, to taste
Instructions
Preheat the oven to 400 degrees F.

Mix the brussels sprouts with olive oil, salt and pepper in a mixing bowl, then transfer to a baking sheet and bake in the oven for about 30 minutes, until starting to brown and tender.

Bring 1/2 cup vegetable broth to boil in a pot and add the black eyed peas. Simmer for 15 minutes, then drain.

Heat a non-stick skillet over medium heat and crack the two eggs. Cover and lower the heat, then cook for about 4 minutes. Sprinkle with salt and pepper.
Please follow and like us: