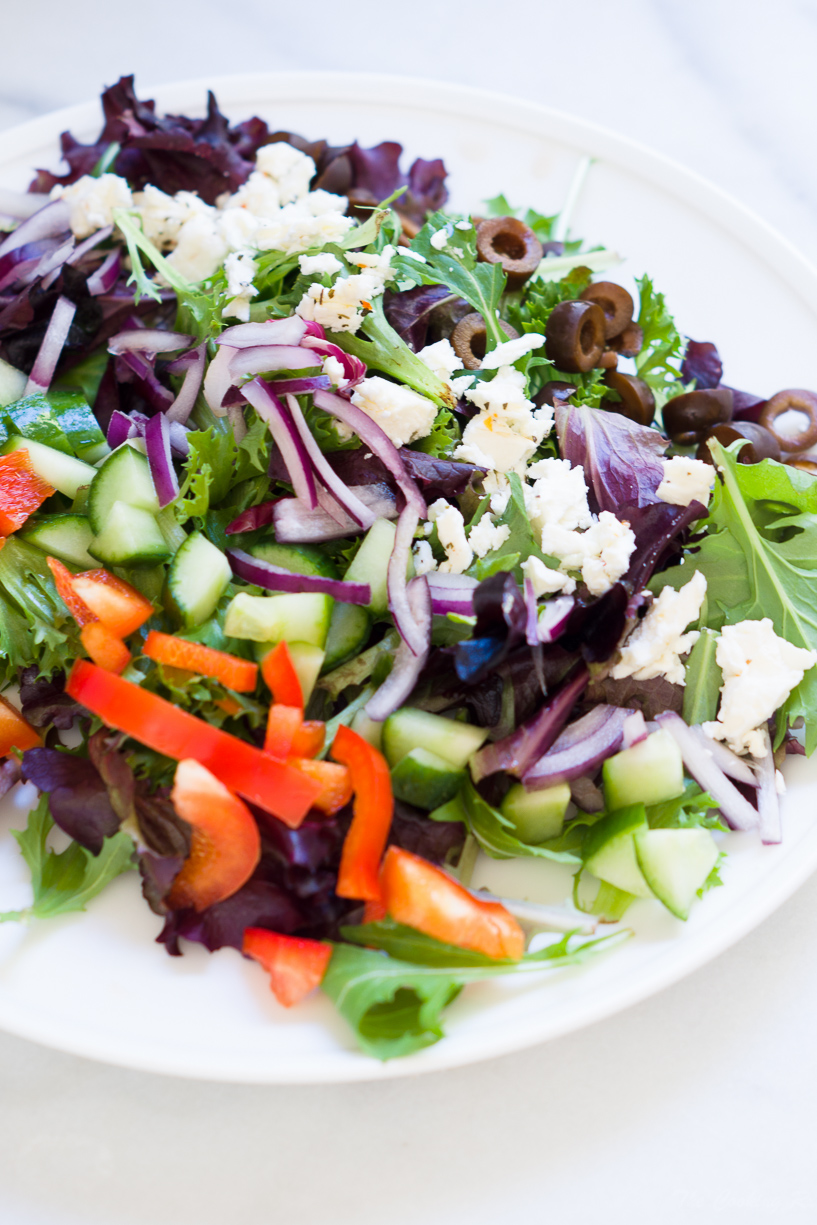 Greek Salad with Red Wine Vinaigrette
This Greek salad is one of my top 5 favorite salads! It is the definition of fresh, and super easy to toss together in a matter of minutes. You can enjoy this Greek salad as a main dish for a light lunch or dinner, or as a side to your main meal for times when you are hungrier for more.
Did you know that soaking red onion in water for 10 minutes can take away some of the bite? I like onions in my salads, but sometimes they can be too strong, so I always soak them for a few minutes before tossing them into the salad.
All of the ingredients in this Greek salad offer great health benefits. Red bell peppers are the healthiest in terms of nutrition when compared to other colors, because they have been on the vine the longest. They have a lot of vitamin A and C! Cucumbers are about 95% water, so they help keep you hydrated. They also have lignans that have been demonstrated in studies to help prevent heart disease and cancer. Olives have healthy fats and antioxidants.
Guess what you guys?! Sofia has been sleeping five hour stretches at night the last few nights. I don't remember our first daughter ever sleeping more than 2 or 3 until she was 2 years old, so this is huge. I have also figured out a nice routine for meal planning and grocery shopping. Once a week I spend 30 minutes planning our meals for the next 5 to 7 days, and go shopping once a week to buy all of the ingredients I will need. This will be week 3 and so far it has been working out great! Organization is a beautiful thing.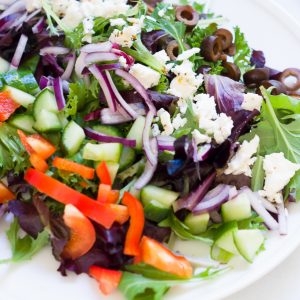 Greek Salad with Red Wine Vinaigrette
Ingredients
4

cups

mixed greens

1/2

cup

chopped cucumber

1/2

red bell pepper, chopped

1/4

cup

crumbled feta cheese

1/4

cup

sliced olives

1/4

cup

sliced red onion
Red Wine Vinaigrette
3

tbsp

olive oil

1

tbsp

red wine vinegar

1

tsp

mustard

1

small garlic clove, minced

1

tsp

honey

Pinch

salt and pepper
Instructions
Add all dressing ingredients to a bowl and whisk together.

Add the salad ingredients to the bowl and toss well.
References
Eating Peppers – https://www.webmd.com/diet/peppers-health-benefits#1
Health Benefits of Cucumbers – https://www.webmd.com/food-recipes/cucumber-health-benefits
Lignans and Human Health – https://www.ncbi.nlm.nih.gov/pubmed/17943494
Please follow and like us: