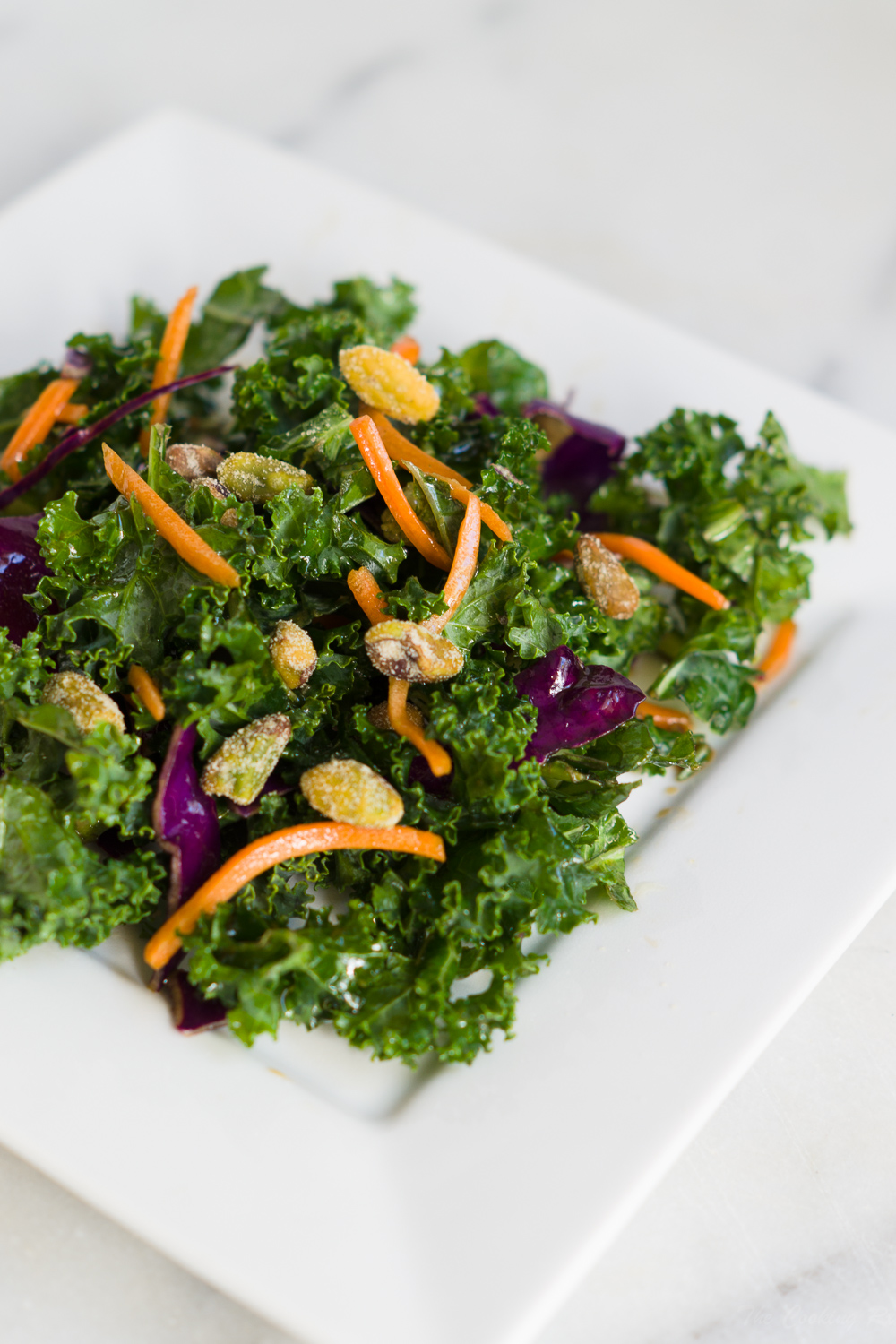 Kale, Red Cabbage and Carrot Salad
We all know that kale is an incredibly healthy green, but not all of us like the taste of it. It took me a while to warm up to kale. Now I like it sautéed or fresh as a salad. Apparently massaging kale lessens its bitter taste, but I have never tried it myself. Instead, I coat it with a honey-sweetened salad dressing and add sweet ingredients to my kale salads, like dried cranberries.
In this kale salad recipe, I added honey roasted pistachios, which you can buy at the store or make them yourself with regular shelled pistachios. These help balance the bitter flavor of the chopped kale. The dressing is a honey-sweetened vinaigrette that contains apple cider vinegar and balsamic vinegar for a delicious mix of flavors.
I love buying those bags of already chopped and washed organic kale since it is a bit of a time saver, but you can do it yourself too.
Remember how I wrote about my tough day the other day? And how having a baby and a toddler is an emotional rollercoaster? Today was a pretty good day. The dishes got done, the baths got done, dinner was on the table on time, and the kids were asleep by 8pm. I even got a mini cycling workout in! I wish every day was this easy 🙂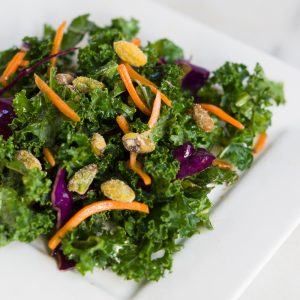 Kale Cabbage Carrot Salad
Ingredients
4

cups

chopped organic kale

1/2

cup

shredded carrots

1/2

cup

shredded red cabbage

1/4

cup

honey roasted pistachios
Dressing
3

tbsp

olive oil

1

tbsp

apple cider vinegar

1

tbsp

balsamic vinegar

1

tsp

mustard

1

tbsp

honey

Salt and pepper to taste
Instructions
Add all of the dressing ingredients to a large bowl and mix well.

Add the kale, carrots, cabbage and pistachios and toss together with the dressing.
Please follow and like us: