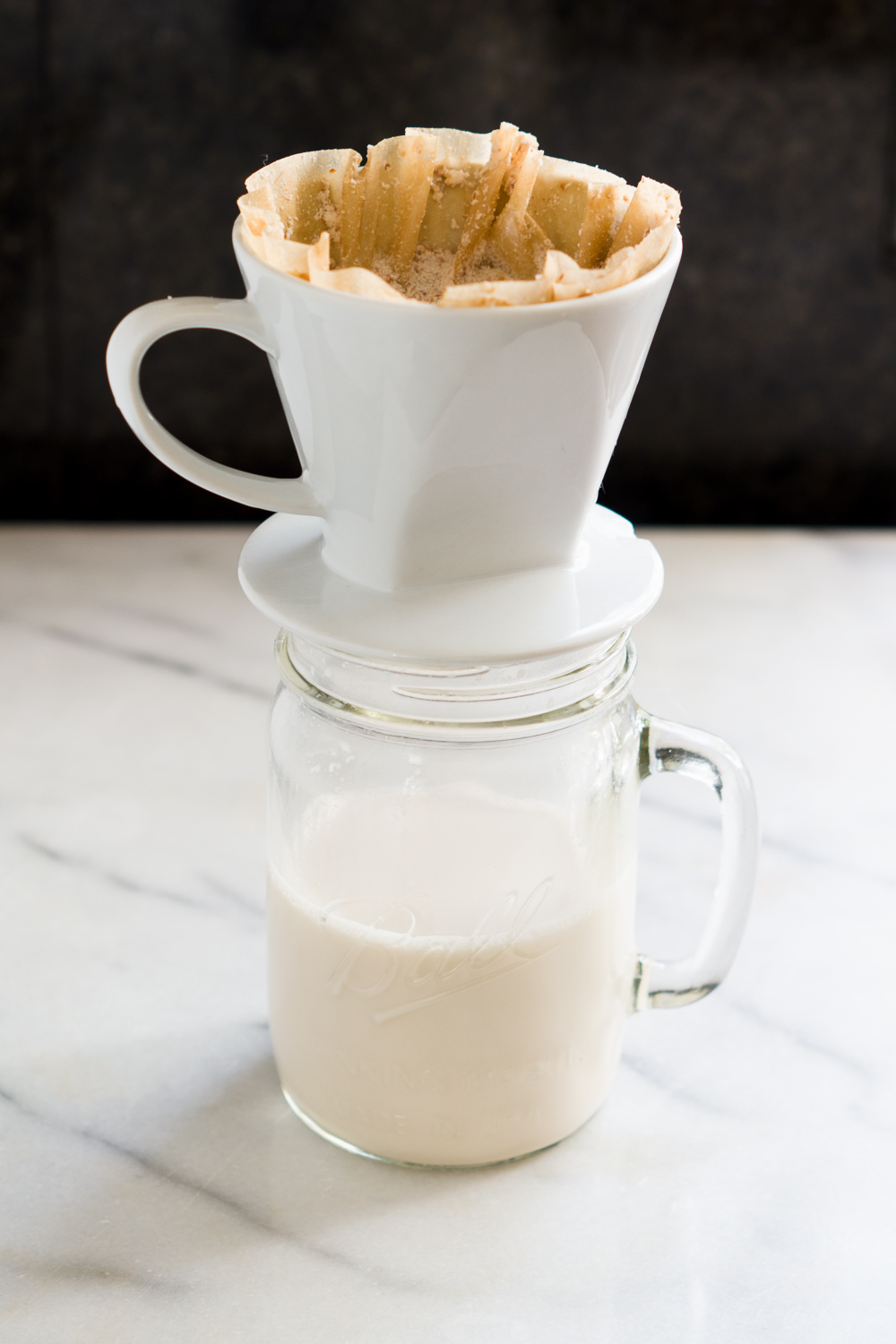 One of the staples of a plant-based diet is enjoying nut milks instead of animal milks. I love homemade almond milk or cashew milk in my cereal or oatmeal in the mornings! Nut milks are very easy to make at home, and there is no need to buy expensive milks at the grocery store. Many times the nut milks you find at the store contain preservatives, "natural flavors" and are processed in other ways we don't want. There is really no excuse. If you have a blender and a coffee filter at home, you can do it! Most of the time it takes to make nut milks is waiting for the soaking period. If you use hot water, this goes by a lot faster than using cold water. Hot water will take about 2 hours, and if you use cold water you will need to wait overnight for the nuts to soak. Just a word of caution: unless you are switching to fortified plant-based milks, you are most likely missing a lot of calcium you otherwise get in cow's milk you buy from the store. If you make the switch, make sure you are getting enough calcium in your diet!
Once you let the nuts soak in water, you will need to blend with a sweetener (unless you like it without, but for me I need a little bit of sweetener!). Honey, maple syrup or dates are great choices to sweeten the milk a little bit. Once you blend the mixture up, you will then need to strain the "pulp" and squeeze out the milk. There are a few ways to strain the almond pulp. You can use a coffee filter (a little more tedious than the other methods), a lightweight dish cloth, or if you are going to be making your own nut milks often, I recommend buying yourself some nut milk bags. Yes, nut milk bags exist! Another cool setup I discovered recently, but the most pricey option, are CoffeeSocks. Then you have the glass storage container for your milk plus the straining cloth all in one.
Don't throw the almond pulp away! There are many ways to use it. Put it in a container in the fridge (it will keep fine for a few days), and use it in breads, muffins, or even on top of granola for breakfast.
This is just a basic recipe for homemade almond milk. There are many variations. You can add cinnamon, cocoa or cacao powder, vanilla extract, and more to add more flavor.
I put together a little video to show you guys how easy it is to make your own almond milk at home!
What is your favorite way to use nut milks? Have you tried making them at home?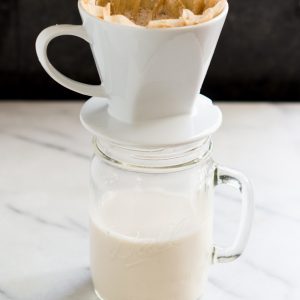 Homemade Almond Milk
Ingredients
1/2

cup

organic, raw almonds

2

cups

filtered water

1/2

tsp

vanilla extract

1

dry, pitted date

Pinch

salt
Instructions
Add the almonds to a glass pyrex dish or heat proof mixing bowl.

Boil the 2 cups of water, then pour over the almonds.

Cover the almonds with a towel and let stand for 2 hours.

Add the almonds, water, date, vanilla and salt to a blender and blend on high speed for 2 minutes.

Pour into a coffee filter, nut milk bag, or thin dish towel (do not use paper towel, it will fall apart) and squeeze all the liquid into a glass bottle.

Keep refrigerated for 4 days.
Disclaimer: Some of the links above may be affiliate links – I will receive commission if you choose to purchase those products.
Please follow and like us: