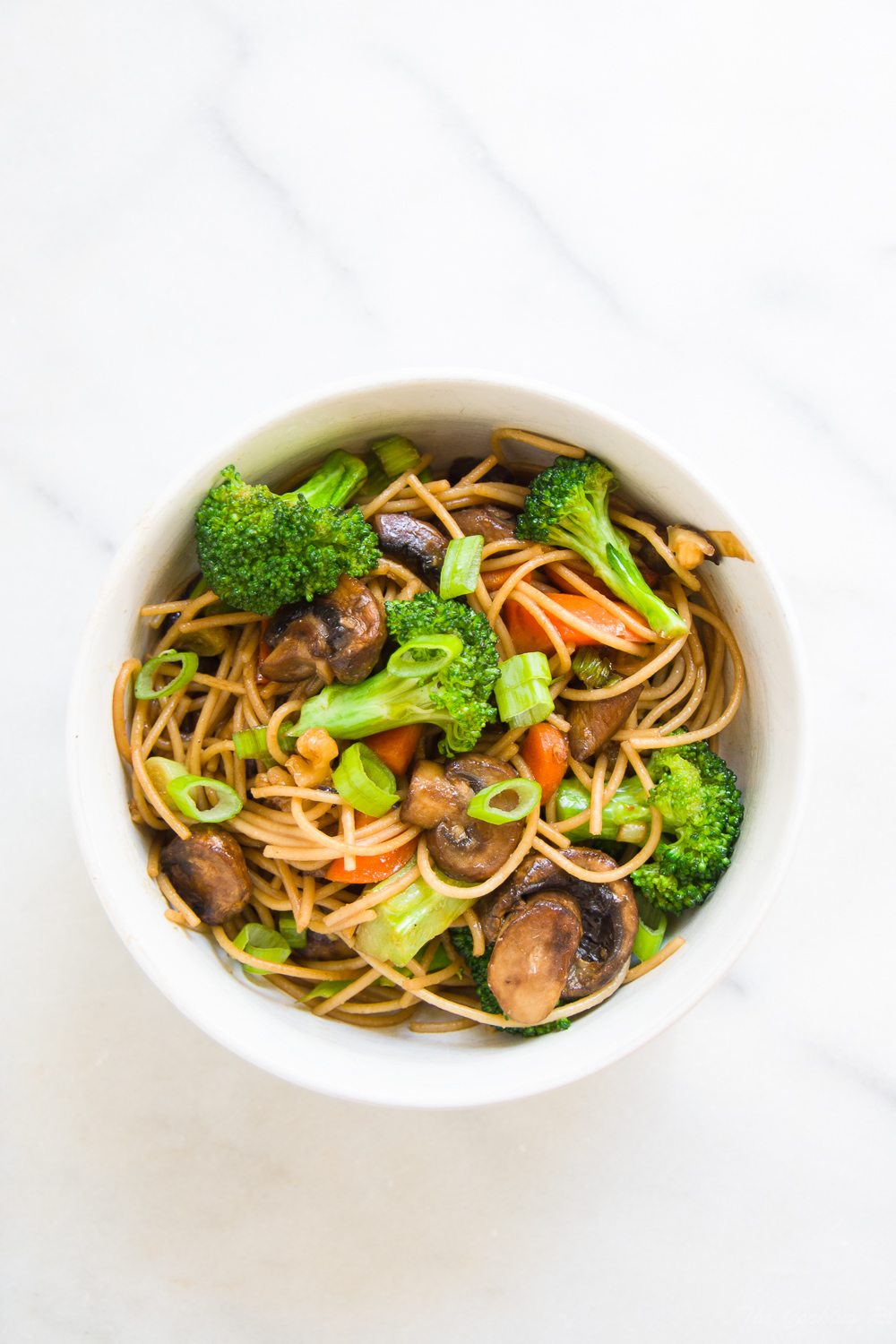 Whole Wheat Noodle Stir Fry
Sometimes when I open my fridge and pull out leftovers, magic happens. I love it when I throw some stuff together and it creates something delicious. That is how this whole wheat noodle and vegetable stir fry happened. I made whole wheat spaghetti the night before, and made too many noodles so in the fridge they went. I also had mushrooms and broccoli going bad, so those had to go. With some carrot, green onion, walnuts, and sesame oil, this yummy whole wheat noodle stir fry came together perfectly! I like to cook the vegetables until done by still crisp so the stir fry is more on the crunchy side. If you don't have sesame oil, you will lose a lot of the flavor, but you can try to use only soy sauce and see how it turns out.
This whole wheat noodle vegetable stir fry is a simple, healthy lunch or dinner that the whole family will enjoy.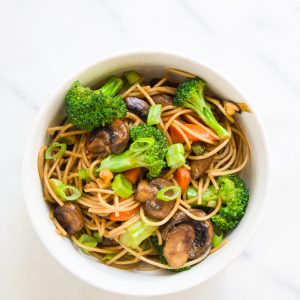 Whole Wheat Noodle Stir Fry
Ingredients
1

package

whole wheat spaghetti noodles

2

tbsp

olive oil

2

carrots, chopped

1

8 oz package sliced mushrooms

1

bunch green onion, chopped

1

head broccoli, chopped into florets

1

tbsp

soy sauce

Salt and pepper to taste
Instructions
Cook the noodles according to package directions, drain and set aside (ideally they are cooled completely and even chilled in the refrigerator first so they are not soggy).

Add the olive oil to a large wok or skillet and add the mushrooms, broccoli, and carrots.

Sprinkle with salt and pepper and stir, cooking over medium heat for about 8 minutes.

Add the sesame oil, noodles and green onion and stir while cooking over medium heat for 4-5 minutes.

Add the soy sauce and walnuts, toss together and serve immediately.
Please follow and like us: