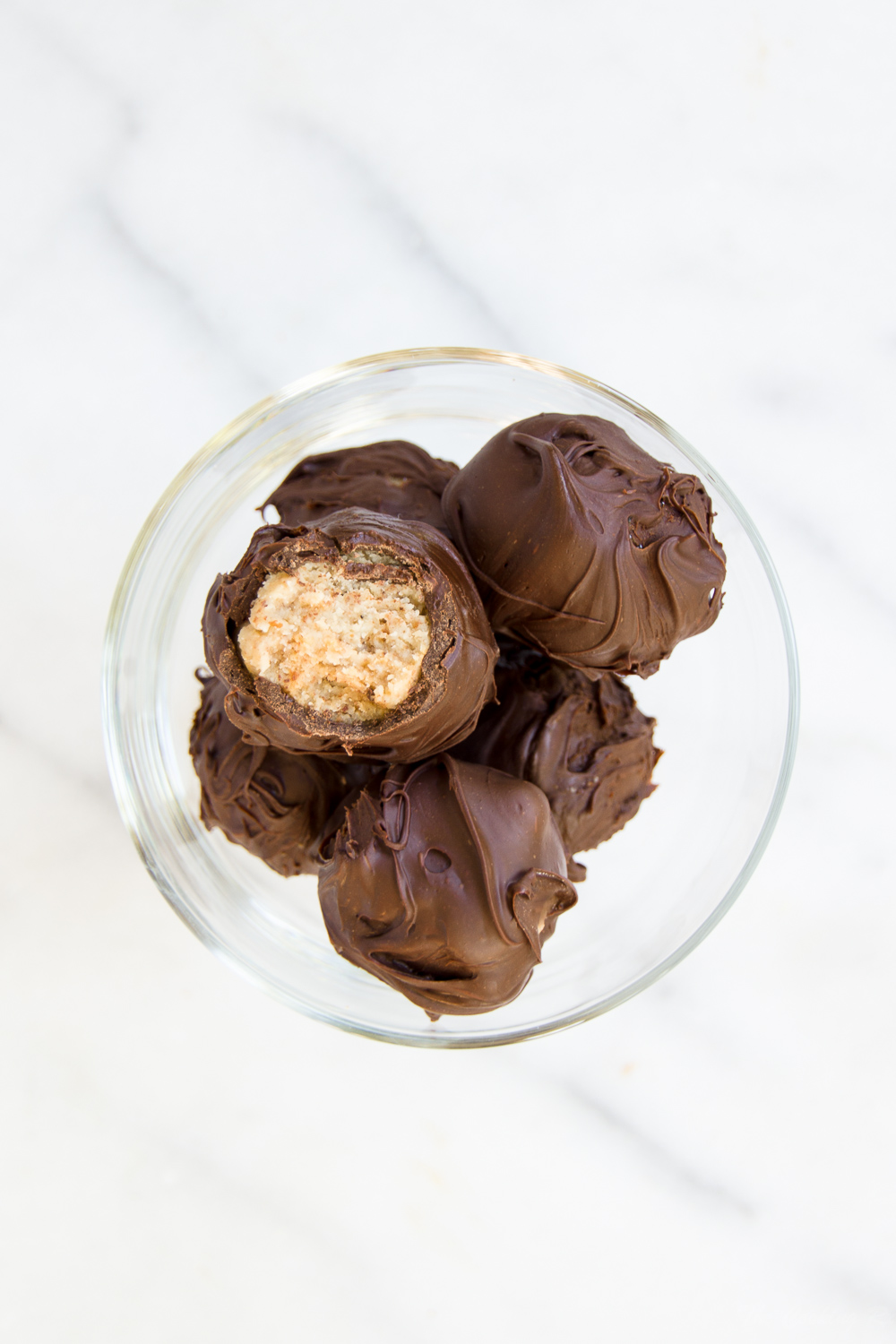 Chocolate Nut Butter Balls
The other day I made this delicious triple nut butter from scratch, and ever since I have been craving chocolate nut butter balls! This confection is the perfect mid-week pick-me-up. Although dangerous, I enjoy having a bowl of them in my refrigerator to grab when I need to indulge! I stopped buying store-bought peanut butter cups at the store a long time ago, and started making my own version at home since it is so easy and there aren't any yucky preservatives. Instead of making cups, I just dip frozen rolled up nut butter in chocolate to keep things simple. I use my homemade triple nut butter which has almonds, cashews and walnuts. It is thicker and not as oily in consistency, making it perfect to form into firm balls. I still recommend chilling them in the freezer so the chocolate hardens more quickly when you dip them.
I melted my chocolate in my Thermomix®, since it gets it to the perfect temperature without burning the chocolate. I love being able to add in the chocolate chips to the mixing bowl, turn on the temperature and time setting and walk away. In minutes I have perfectly melted chocolate! Another bonus: it is easy to clean. Using preclean mode on the Thermomix® gets your bowl nice and shiny, ready for the next recipe without any scrubbing 🙂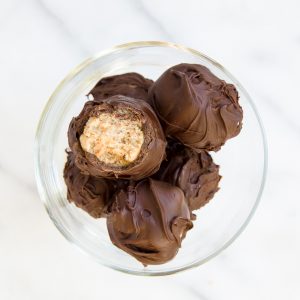 Chocolate Nut Butter Balls
Ingredients
1

cup

nut butter

1

cup

semi-sweet chocolate chips
Instructions
Roll 1-inch balls of nut butter with your hands and place them onto a freezer-safe dish.

Place in the freezer for 1 hour.

Add the chocolate chips to a Thermomix® mixing bowl and melt at 110 degrees F on speed 2 for 5 minutes.

Dip the frozen nut butter balls into the chocolate and shake off excess.

Place in the refrigerator for a few minutes to harden.
Disclaimer: I am a Thermomix® consultant and sell them as an independent business. "THERMOMIX," "VORWERK," "COOKKEY," and "COOKIDOO" are a registered trademark of VORWERK (or its affiliates). VORWERK does not support, authorize or endorse this site.
Please follow and like us: