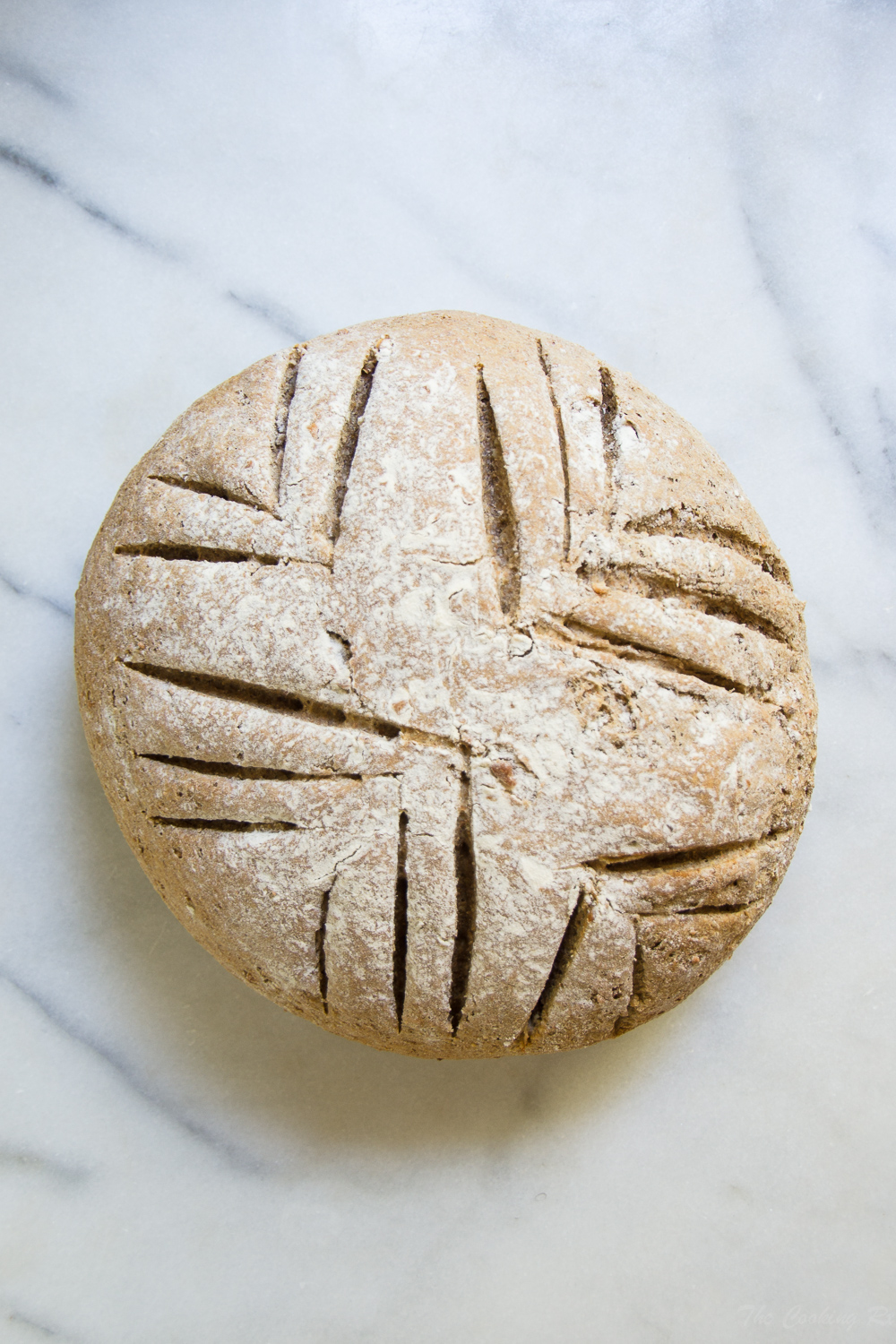 Everyday Whole Wheat Walnut Bread
Like many others at home these days during the pandemic, I have been baking a lot of my own bread loaves at home. I have tried baking my own bread in the past, but it always came out very different than the bread I could buy at the store with much less effort. After I got my Thermomix®, I suddenly found my passion for baking homemade bread again using the guided bread recipes on Cookidoo® recipe database that have been tested and pretty much fool proof. It is so satisfying to get a delicious result!
A few months ago, my mother-in-law was visiting and she showed me one of her basic whole wheat bread recipes that she has been making for years. Now I want to share it with you, because it comes out perfectly delicious for me every time! It has a blend of three different flours: all-purpose, dark rye, and whole wheat. This healthy loaf also includes flax seeds and nuts, such as walnuts. One of the advantages of baking bread at home is controlling the amount of salt. Most storebought bread loaves contain a large amount of sodium, so I like to use a little less in my homemade bread.
You can make the bread in a stand mixer or by hand, but will need to knead the dough longer than in a Thermomix®, which has a bread kneading function built-in.
Scoring is the most fun part of bread baking for me. It allows you to be creative and have fun! You only need to slash some markings on the bread about 1/2 inch to 1 inch deep to allow it to rise consistently as the gases are released during baking in the oven. Before scoring your loaf, dust it with flour to make a "gluten coat" that will keep the warmth inside. Then, use a sharp knife to make one or more slashes.
This loaf is perfect for sandwiches or breakfast with jam or cream cheese. Store it in a bread box for a few days, or place in the freezer for later!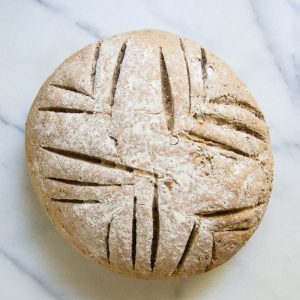 Everyday Whole Wheat Walnut Loaf
Ingredients
4

cups

all-purpose flour

2

cups

whole wheat flour

2

cups

dark rye flour

640

ml

warm water (100F)

1

tbsp

salt

5

tsp

active dry yeast

1

cup

ground flax seed

1

cup

nuts
Instructions
Add the flours and salt into the mixing bowl and in the center pour the warm water and yeast.

Add the flax seed and nuts, then mix and knead for 10 minutes in the Thermomix® or 20 minutes by hand.

Transfer to a bowl and cover.

Set in a warm place to rise for 1 hour.

Transfer the dough onto a lightly floured surface and form into a ball-shaped loaf.

Place the dough onto a parchment paper lined pan and cover and let rise 1 hour longer.

Preheat the oven to 425 degrees F.

Dust the loaf lightly with flour and score.

Place into the oven along with a pan of water underneath and bake for 10 minutes.

Lower the heat to 375 degrees F, and bake for 30 to 40 minutes, until golden brown.
Please follow and like us: