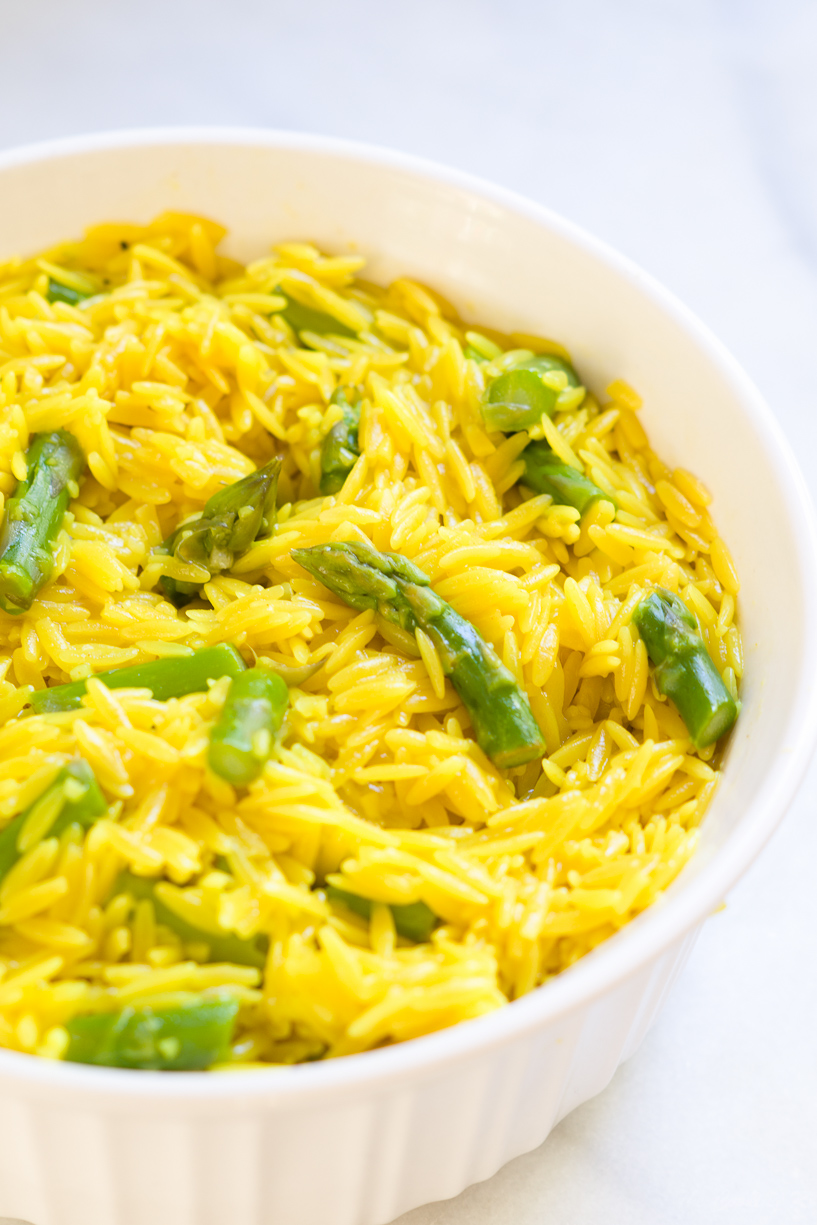 Don't you love that beautiful yellow color? I will tell you the secret: turmeric! Turmeric is closely related to ginger (it looks very similar on the outside), and the powder has a gorgeous, vivid yellow color. Turmeric is used commonly in Indian cooking, and is known for many health benefits (although some studies show mixed results). Health benefits include antidepressant effects, steady blood sugar levels in diabetes, anti-inflammatory effects and it even contains a compound called curcumin that may help fight viral infections. Even though there is not a lot of strong evidence for any of these benefits, I still like to sprinkle turmeric on my food whenever I can!
This lemon asparagus orzo recipe is a great side dish to fish or chicken, but you can also add some fried tofu or egg for your protein source. The lemon flavor is intense, and goes very well with the tender, steamed asparagus. What else would you serve it with?
Do you guys ever feel like the cleaning is an endless story? I used to get overwhelmed by it, because I am a bit of a perfectionist and need to have things in order at all times (with a toddler and a 3 month old, HA yeah right!). I have learned to accept that things are not going to look perfect in the house all the time. One thing I found helpful is to try to get on some sort of routine. I make sure to clean the kitchen every night before going to bed, and the bathrooms twice per week when I am watching my toddler in the bath. The laundry is one thing I do whenever I can – for example, when the baby is sleeping. How do you keep up with housework?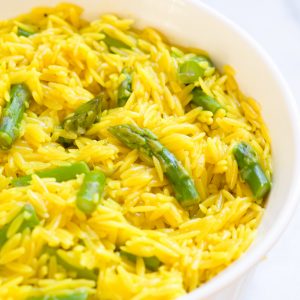 Lemon Asparagus Orzo
Ingredients
1

bunch

asparagus

4

cups

vegetable broth

1

cup

orzo pasta

1/4

tsp

turmeric

1/4

cup

olive oil

2

tbsp

lemon juice

1

tbsp

lemon zest

1

clove

garlic, minced

Pinch

salt and pepper
Instructions
Mix the olive oil, lemon juice, zest, garlic, salt and pepper in a large mixing bowl.

In a pot of boiling water, steam the asparagus for 8 minutes, or until tender. Chop once cool.

In another pot, bring the vegetable broth to a boil and add the orzo and turmeric. Cook for 10 minutes, then drain well.

Toss the orzo, asparagus and dressing together.
References
Health Benefits of Turmeric – https://www.webmd.com/diet/ss/slideshow-turmeric
Please follow and like us: