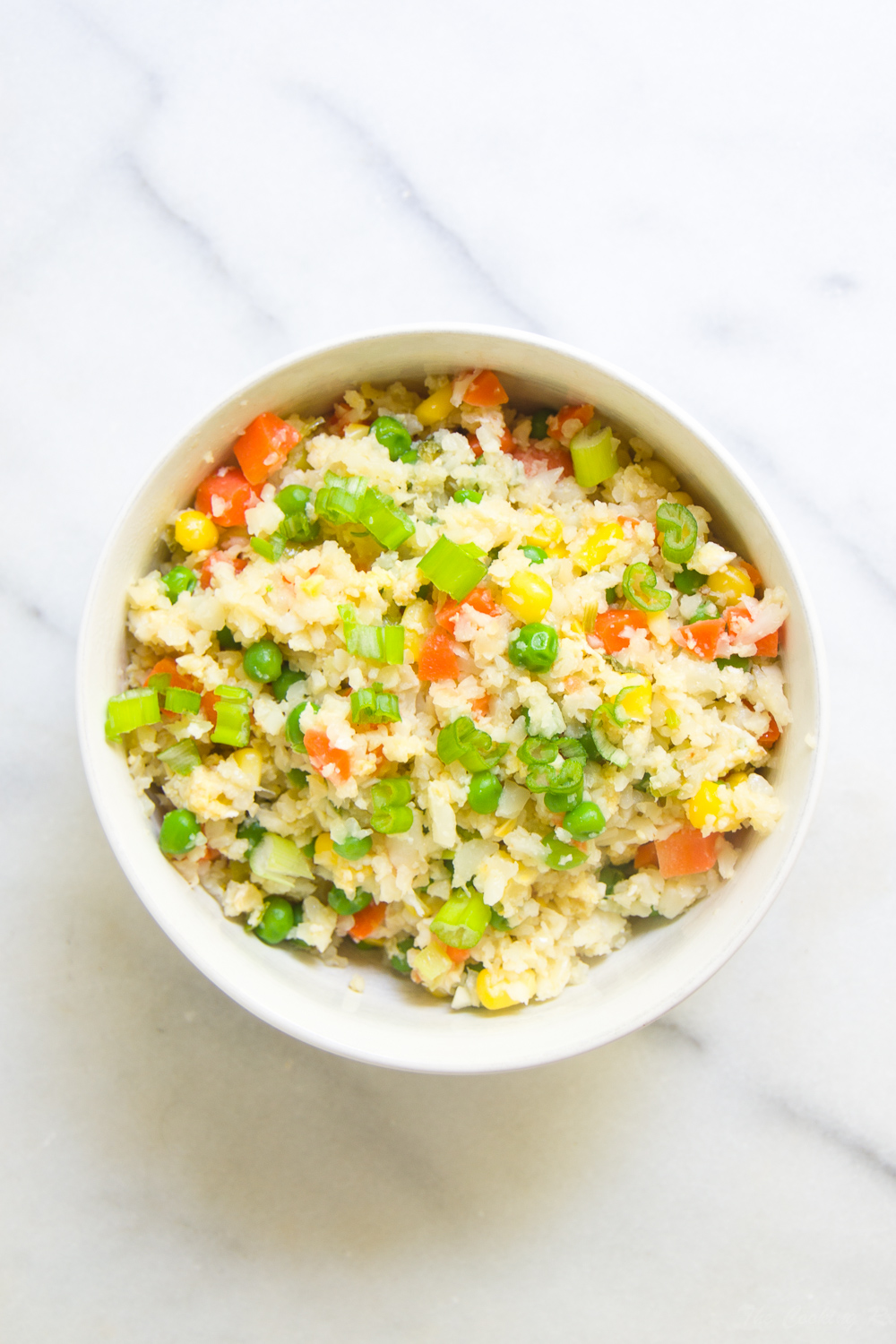 Forget take-out and make this super simple, delicious and healthy cauliflower fried rice in under 20 minutes! Keep it vegan or add scrambled eggs or chicken for protein. Cauliflower alone is very plain and does not have a strong taste. In this recipe, it is first "riced" and then fried in oil and flavored with garlic, liquid aminos (a substitute for soy sauce) and sesame oil.
To rice the cauliflower, I use my Thermomix®. You can literally throw a head of cauliflower into it and it will rice it in 4 seconds flat. Impressive! If you do not own one, you can use a food processor. There is a debate about which oil you should fry your cauliflower rice in. I choose olive oil, because since we are not deep frying and medium heat works well for me, it tastes great. Other people choose to use butter, coconut oil or vegetable oil. Use what you like the best!
I find that this recipe can be modified in terms of the vegetables you add to it. The basics are carrots, green onion, and peas, but feel free to add bell peppers, broccoli, zucchini…the list can go on!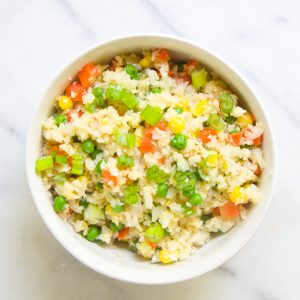 Cauliflower Fried Rice
Ingredients
1

head

organic cauliflower, halved

2

tbsp

olive oil

2

garlic cloves, minced

1

carrot, chopped

1

bunch of green onions, chopped

1/4

cup

peas

1/4

cup

corn

1

tbsp

sesame oil

2

tbsp

liquid aminos (or soy sauce)

2

eggs, scrambled
Instructions
Add the cauliflower to a Thermomix® bowl or food processor and blend/pulse until it turns into rice-sized pieces.

Heat olive oil in a skillet over medium heat.

Add the garlic, green onion, and carrots and cook for 4 minutes while stirring.

Add the cauliflower rice and stir.

Make a space for the egg and add it in, or cook in a separate pan. Scramble the egg.

Add the peas and corn and mix everything together, cooking and stirring for 7 minutes.

Add the sesame oil and liquid aminos, salt and pepper to taste and stir through before serving hot.
"THERMOMIX," "VORWERK," "COOKKEY," and "COOKIDOO" are a registered trademark of VORWERK (or its affiliates). VORWERK does not support, authorize or endorse this site.
Please follow and like us: