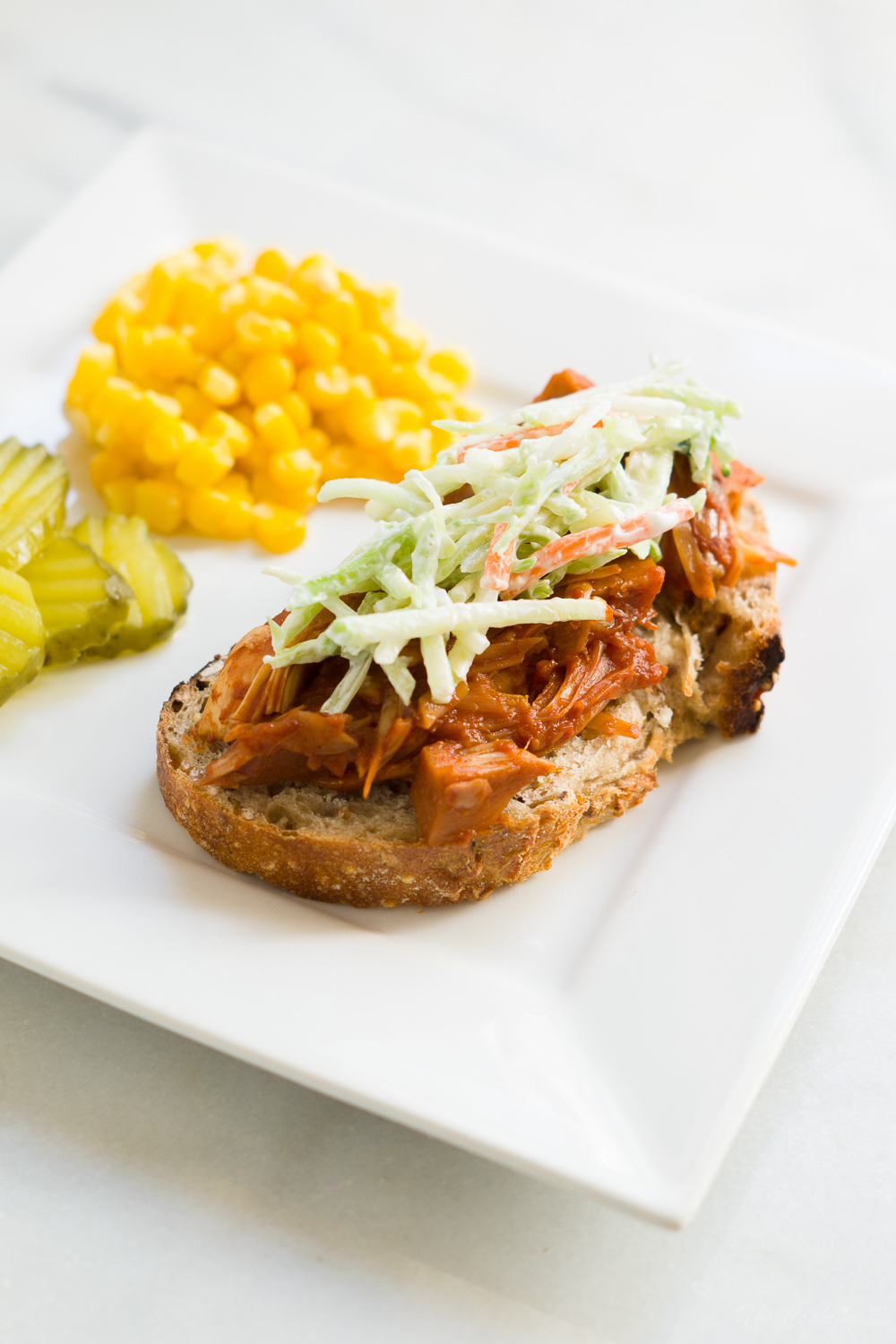 I only discovered jackfruit just recently while browsing the tofu section of my grocery store. If you are from the US and aren't familiar with it, that is probably because it is not grown in the US. Jackfruit is native to India, and grows in Thailand, Brazil, Australia and Africa. One fruit can weight over 100 pounds – they are huge! It is rich in vitamin C, B vitamins and antioxidants. You can usually only find it canned, frozen, or sometimes in the fridge section near the tofu, but never fresh in the US. Jackfruit has been gaining popularity with vegetarians and vegans because it has texture similar to meat (I think it it a lot like pulled pork in texture).
My favorite way to prepare jackfruit is to marinate it in BBQ sauce and served on bread as a sandwich with corn, pickles and slaw. This last time I topped it with broccoli slaw using Greek yogurt for the sauce. I gave it to my husband once and he didn't even notice it wasn't some type of meat! For me, I knew it was a substitute so I could tell it wasn't meat, but I still enjoyed the taste and the texture on my sandwich.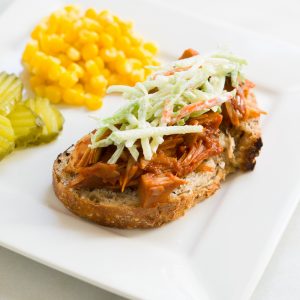 BBQ Jackfruit Sandwich
Ingredients
2

cups

canned or frozen jackfruit

1/2

cup

BBQ sauce

1

tbsp

olive oil

4

slices bread
Instructions
Marinate the jackfruit in BBQ sauce for 1 hour in the refrigerator.

Heat the olive oil on a skillet over medium heat and saute the jackfruit for 10 minutes, mixing and pulling it apart.

Top each slice of bread with 1/2 cup cooked BBQ jackfruit.
References
Health Benefits of Jackfruit – https://www.webmd.com/food-recipes/health-benefits-jackfruit#1
Please follow and like us: